By
Kenneth Caldwell [Metropolis Magazine]
October 26, 2023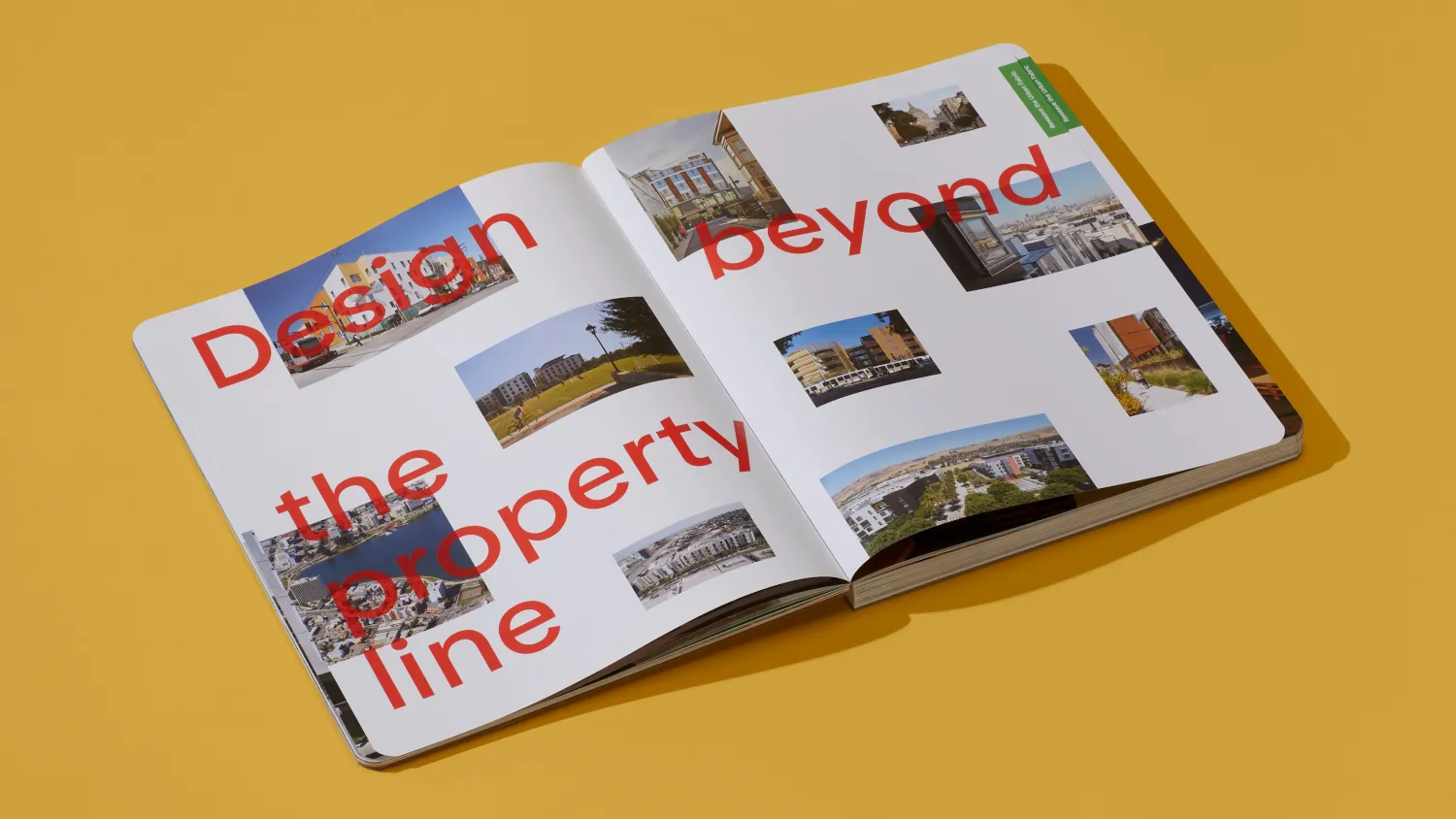 Architects love their monographs. The challenge of making these volumes useful, or at least more than just a catalog of greatest hits, is bigger than ever, given that almost every design firm wants one. At the same time, there is a growing interest in architecture that goes beyond the interests of powerful, wealthy clients. Phrases like "socially responsible," "equity and inclusion" "mission-driven," and even " "justice" are being used more in design school curricula and popular media. Although the term "net zero" is bandied about, the recent publication of a 7,000+-square-foot "net zero home" for a Google zillionaire drew a fair amount of criticism. Two recent monographs by socially responsible West Coast firms remind us that sustainability is not just a benefit for the super-rich.
There are several Bay Area firms that have focused their practices on projects for nonprofit clients. Some firms have taken a more Robin Hood approach, using the profits from luxurious projects to fund social projects. Leddy Maytum Stacy Architects (LMSA) and David Baker Architects (DBA), two practices that have largely eschewed work for the rich and advocated building projects that directly benefit the marginalized, have both recently released monographs from the same publisher, Oro Editions, at the same time. While this might have been seen as a PR disaster, it turns out to be a brilliant move for everybody interested in how architecture can serve the common good. The two firms have similar visions, but what's interesting is how the two firms approach their respective narratives, and their new books remind us that there is no single way to build the ideal—or to share it.
Both firms exhibit a prescient commitment to sustainability. DBA's first structure, a modest 1978 house in Berkeley, featured an early Trombe wall while William Leddy and Marsha Maytum have been two of the most vocal architects in the profession when it comes to design and climate change.
In their volume Practice With Purpose, Leddy Maytum Stacy Architects worked with seasoned architecture editor Clare Jacobsen and avant-garde graphic designer Martin Venezky to lay out the firm's rigorous modernist work. Edward Mazria, founder of Architecture 2030, writes a foreword that establishes the idea of architects as activists. Robert McCarter, noted author of books on Louis Kahn and an early monograph of the LMSA's principals, returns to examine the arc of a critical practice that works for "planetary survival."
This volume borrows from the standard monograph structure and is richly illustrated with drawings and project photography. The projects and essays included clearly present a philosophy of practice, rather than standard marketing text. LMSA has evolved from what  Carter described as "constructed intention" in his earlier monograph. In addition to describing each project's design features and materials, the book also includes anecdotes linking the project history to the firm's principles. These include community-based tales, such as collective memories about a schoolyard, the impact of a tomato harvester on an agricultural campus, and the legacy of a Filipino performing arts theater.
Perhaps because there were three founding principals, the firm built across multiple markets. This volume uses the legacy of the three founders to argue for a future that recognizes diminishing resources.
In contrast, DBA's 9 Ways To Make Housing for People focuses on the firm's expertise in multifamily housing and the integration of architecture and urban design. His early work incorporates the bold forms and colors of postmodernism but he was never a historicist—more of a collage-ist. There is little chronological history here. The book has a cardboard cover and as many diagrams as photos. Many of the photos are of the city, not the firm's buildings.
The volume is organized around nine principles that integrate urban design and architecture to create affordable dwellings. The firm also works for market-rate clients, but the same principles apply. Baker figured out that the firm's clients for social housing were committed to building excellence because they held onto their properties, rather than sell them. The idea of "baking the design in" is similar to LMSA's, but the results are dramatically different. This is the joy of having both volumes published at the same time. Baker's volume is not a legacy for the future as much as a textbook for the present. The intended audience includes students, community members, housing advocates, architects, and urban designers. His quirky humor shows throughout. For example, there is a small photo with the caption …maneki-neko lucky cat figurines oversee all design work at the San Francisco office.
DBA worked with San Francisco modernist graphic designer Jeremy Mende for the monograph. Both firms chose the designer that I thought the other would choose. You could say Venezky's design loosened up the tight vocabulary of LMSA and Mende brought order to Baker's bold moves. Both practices benefited from not choosing the obvious route.
Baker then tapped two of his younger principals to prepare the introduction and design editor Allison Arieff to write the foreword. As she points out in her essay, the firm is writing a story with each building. But unlike many of the urban designers and architects of the 20th century, they do not impose form on clients but create places from a multitude of sensitive and thoughtful strategies focused on people.
Both volumes are worth exploring for anybody interested in how architecture can actually help a local community as well as the planet.