By
David Baker, FAIA, Amanda Loper, AIA, Daniel Simons, FAIA [World Economic Forum]
October 3, 2023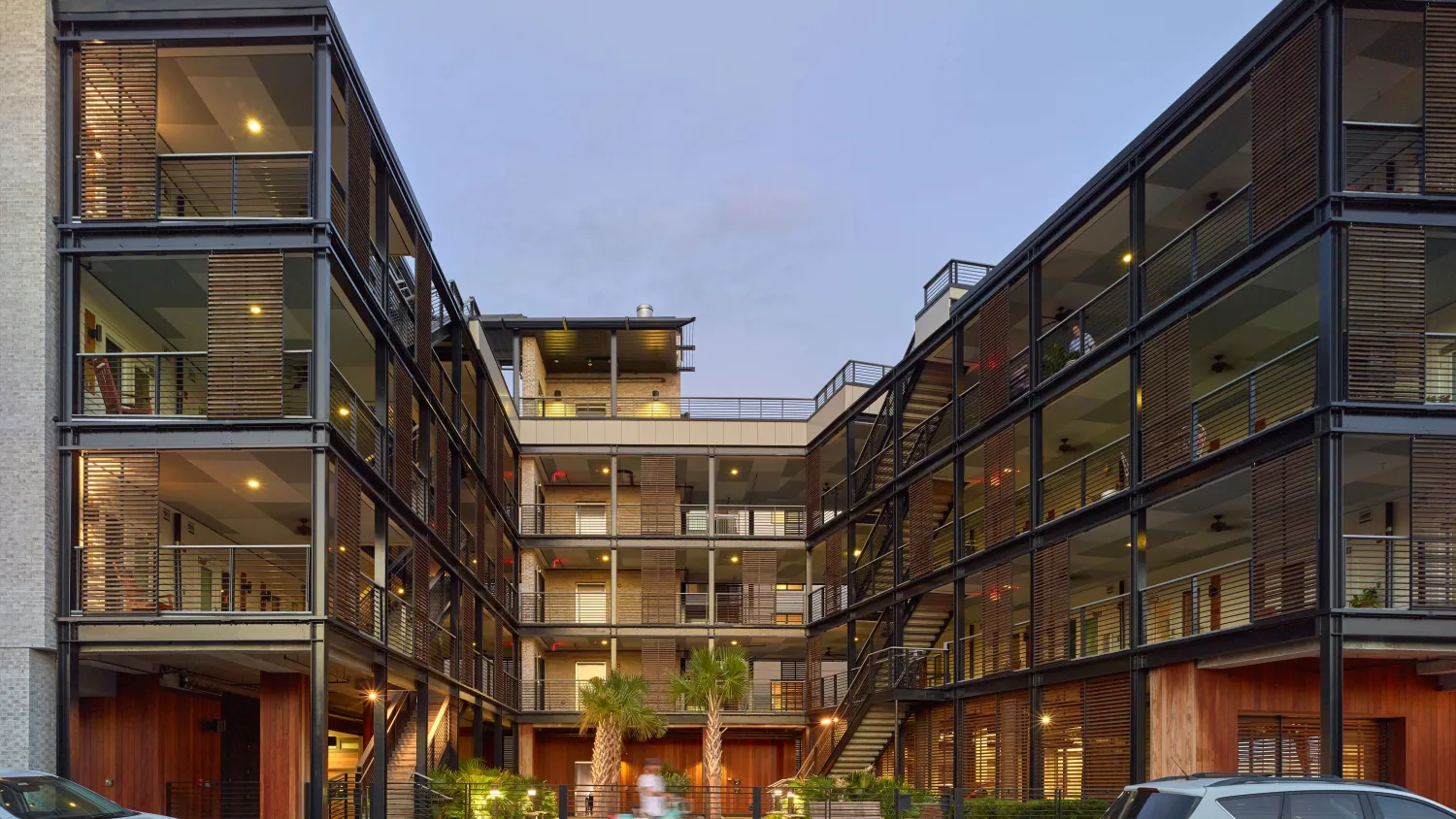 Making housing for people sounds like something that should be both obvious and simple to achieve — but in most places, it is neither of those things. Housing, like the entire built environment, is a token in a game where political jockeying, codes, NIMBYism and cost efficiency drive the day.
For these reasons, there is a need in many communities for affordable housing and attainable housing. Affordable accommodation often refers to subsidized housing and attainable (sometimes called missing middle or affordable by design) to housing that costs less than one-third of monthly Area Median Income.
While there is no exact recipe for fixing this, there are ways to make the most of the money and opportunities available. This suite of principles — overarching concepts that range in scale and provide an essential foundation to create thriving places — will improve housing design at every level. Designing sustainable housing requires leading with a grounded understanding of human needs, and with a focus on enriching the lives of people in their homes and repairing and supporting communities.
9 principles for human-centric housing
Here are nine guiding principles that can help to create communities and housing fit for people.
1. Reweave the urban fabric
Create, repair and enhance connections within existing neighbourhoods. With each building we develop or design, we have a chance — and a responsibility — to be urban activists and advocates for livable cities. Look at your site with the widest vision possible, through the lens of an urban designer, and ask: "What does this place need to stay vibrant or be brought back to life? How can this building anchor, repair, or support this neighbourhood?"
2. Make big moves
Design a bold and interesting building form. A robust architectural form distinguishes a building without relying on specific or expensive materials to make a splash. Material choices and other details can end up on the chopping block when costs get high. Commit to a big move that makes its impact structurally — the benefits will be preserved through the entire development process.
3. A little goes a long way
Concentrate premium materials at points of shared enjoyment. Keep it simple everywhere else. No matter the site, location or typology, buildings have budgets — and those budgets are often smaller than ideal. Spend the money available wisely and purposefully. High-visibility spots and areas with strong communal use are prime sites for an enhanced feature, material or finish that elevates the experience of the building.
4. Activate the edges
Energize the streetscape with a generous, mixed-use ground floor. Early humans evolved to see the first 20 feet in front, above and around them, and this is still how we experience buildings and places in the modern urban environment. Activating the edges means preventing dormant spots where dynamic uses should prevail. Prioritize interactive uses — community spaces, courtyards, entries or seating — in the prime space where the building meets the street edge, to ensure a lively interaction between the building and public realm.
5. Be welcoming
Set a positive tone with a bright and engaging entryway. A gracious and inviting front door sets an expectation for inclusiveness and encourages people to treat the building and its residents with respect. A prominent, transparent and approachable entry also helps ease the transition between the public realm and the community. And it's practical: It helps people find the front door, which can be tricky in a large building.
6. Cultivate connection
Place compatible uses together to add convenience, support social encounters and build lasting bonds. Creating good housing is about much more than providing a place for people to live, sleep and manage their daily tasks. It's about maximizing human connections in ways that make life richer, easier and more meaningful. Thinking about semi-public, shared spaces as a cohesive, integrated system; they are the vital organs that give the building life and vigor.
7. Enlightened circulation
Bring light and fresh air into hallways and stairs to connect with nature and encourage walking. Circulation is the way people move through and interact with a building: entries, corridors, bridges, staircases and elevators. The arrangement of these elements influences the movement of people through the building. The graciousness of these spaces and intersections affects how people feel when they are part of that flow.
8. Art for all
Use art to invigorate common spaces, help with wayfinding and create a strong visual identity. Art can be more immediately resonant for many people than architectural details. Featuring artwork in and on buildings provides layers of color and texture, context and a human touch. Creative approaches to how art is integrated (using reproductions through licensing or integrating art with core building functions) can help assure that art is feasible within a tight budget.
9. Get personal
Reflect the character of the community and offer opportunities for personal expression. A building should feel like home to those who live there. This can be accomplished through culturally specific murals or other expressions in the building.
Successful affordable and attainable housing is rooted in the community it serves. A vital part of building housing for people is connecting with current and future residents, and then applying these ideas. They nurture the design process by placing human dignity at the centre of design, and they cultivate the idea that the way we live in relationship to people and place shapes the broader character, health and resilience of a city.
View the full article: These 9 design principles can help deliver high-value affordable housing, which appeared in World Economic Forum on October 3, 2023. 
En español: 9 principios de diseño para ayudar a conseguir viviendas asequibles de alto valor.