By
J.K. Dineen [San Francisco Chronicle]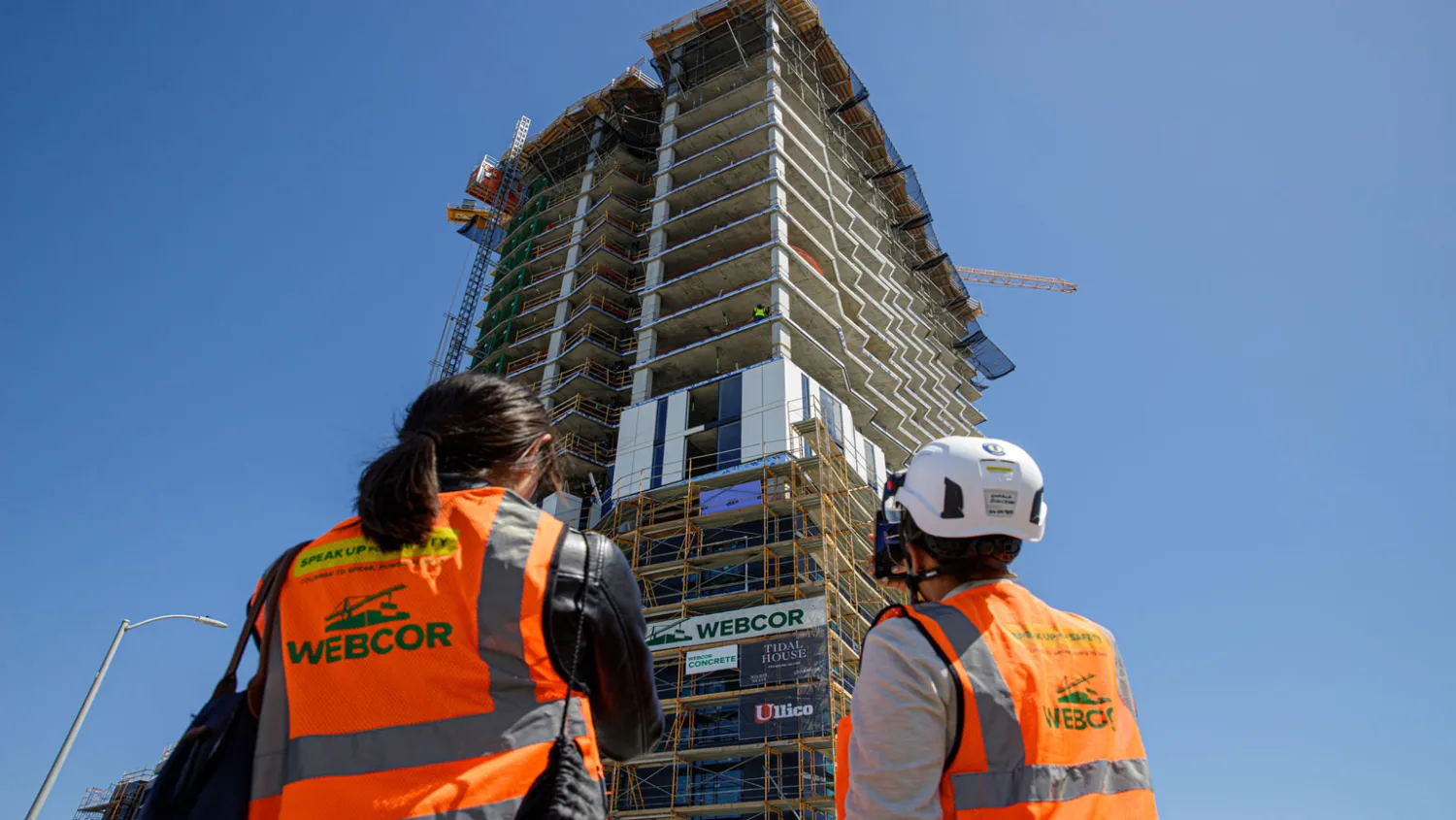 Image Credit
Photography by Jho
The first high-rise to be built on Treasure Island was "topped off" Tuesday, the steel beam hoisted to the roof of the 22-story tower after a ceremony of barbecue brisket and a power-tool raffle for about 180 workers. 
Last July 12, the first piles were driven for Tidal House, the 250-apartment rental building that is the tallest and most ambitious of the four residential structures currently under construction on the island, where about 1,000 units are either being built or recently completed.
"A year ago we were out here, and it was nothing but dust," said Linsey Perlov, a project manager with master developer Wilson Meany. "There were no roads when we started driving piles," she said. 
Most of the 180 construction workers on Tidal House are veterans of San Francisco construction, ironworkers and electricians and plumbers who have built condo towers in SoMa and office buildings in the Financial District.
But building a 240-foot high-rise on a 403-acre manmade island in the middle of the bay is something novel — especially at a time when construction has slowed down and some 1,200 of the city's union construction workers are out of work. 
"Everyone here is happy to be here," said Alex Monaghan, construction manager on the job, before referencing various working conditions. "Fifty mile-per-hour wind and sideways rain, and the people out here 200 feet up are smiling and taking selfies."
About 700 construction workers have been on the Tidal House job at various points over the last year, and hundreds more are working away on the 138-affordable-unit Star View Court, the 178-unit Hawkins apartment complex and the 148-unit condo development Portico. All of them are slated to open in the next 18 months. In total, the island will have 8,000 housing units, 300 acres of parks, 300,000 square feet of retail and commercial space, and a 500-room hotel.
The concrete tower required 2,167 cement-truck loads; 70 million pounds of reinforcing steel, equivalent to three Eiffel Towers; another 1,300 pieces of rebar embedded into the concrete to support various parts of the building; and 12,000 anchors to secure the curtain glass walls. More than 23 inches of rain have fallen on the project this year.
The building will have 1,200 square feet of retail and a roof deck on top of the seventh floor podium. It will have 31 studios, 93 one-bedrooms, and some ground-floor townhomes.
Webcor is the general contractor. But the building was designed by David Baker Architects. Firm principal Pedram Farashbandi said he has to be careful driving across the Bay Bridge. 
"I almost got in an accident trying to check out the building from different angles," he said. "We are building a new neighborhood in San Francisco and contributing to a famous skyline. I can't wait to see this project in a movie—maybe see Tom Cruise jumping off of it."
With the way Treasure Island seems to be transforming overnight, it's easy to forget that it took 18 years to get to this point, a process that included a long approval process, a lawsuit from opponents, a global recession and a pandemic.
Downtown San Francisco workers and residents with east facing windows are accustomed to looking out across Treasure Island to Oakland's industrial cranes and the hills beyond. But in addition to that and the San Francisco skyline, Tidal House residents will have views of Angel Island, Alcatraz, the Golden Gate Bridge, Marin Headlands, Yerba Buena Island and the Bay Bridge.
Monaghan said there is a rare camaraderie among the various work crews, architects and developers building the island community.  
"There is a sense of being on the frontier," he said. "It's something I hear regardless of the level of people— from guys swinging hammers to investors—everyone feels like they are part of something larger than just another high-rise in San Francisco."