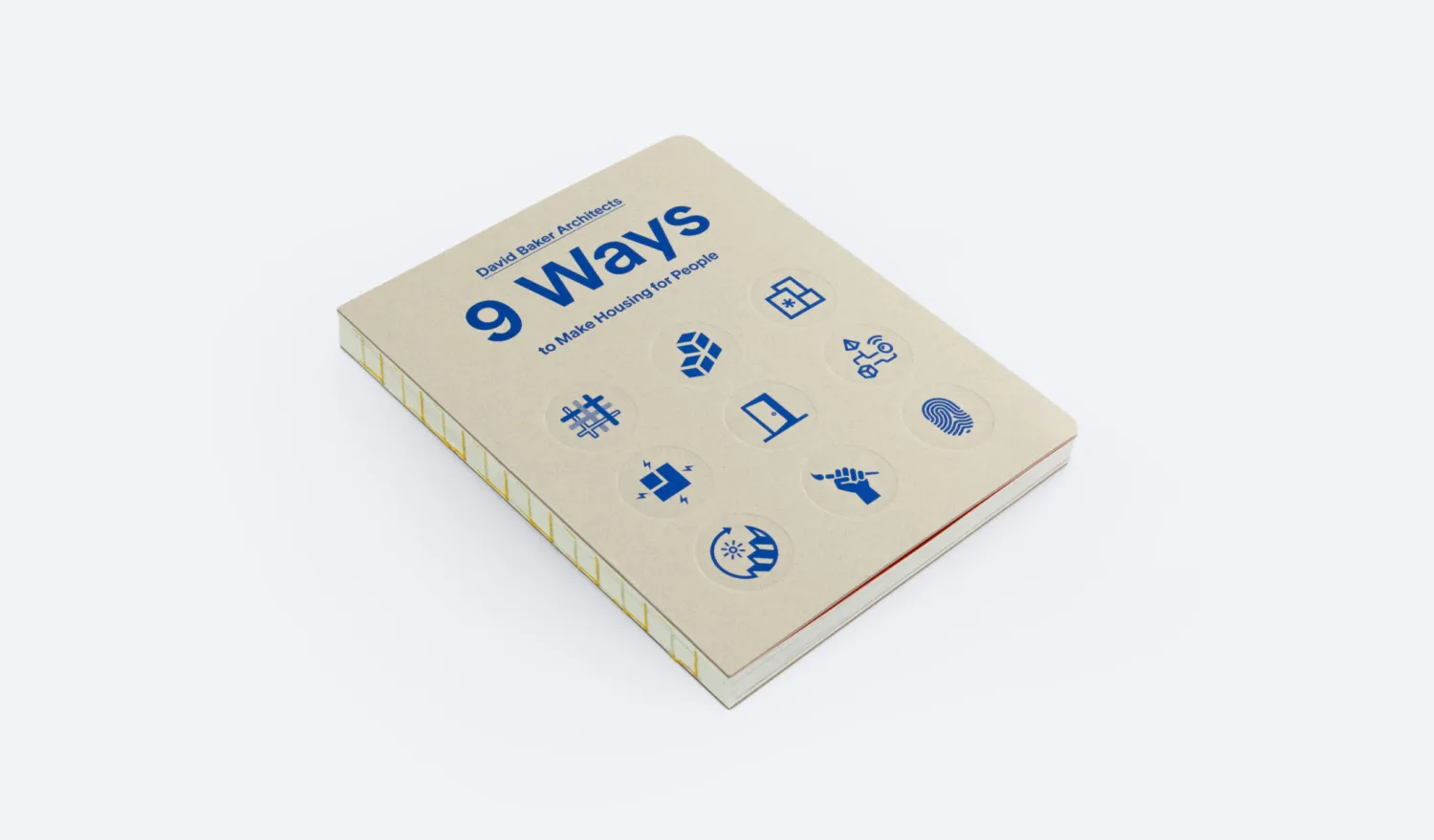 As architects grapple with the global housing crisis amidst a looming recession, it has never been more critical to understand the issues currently impacting the spaces in which we live. Below, we explore three books that unpack these varied challenges and propose potential solutions, including housing that foregrounds human-centred design and multi-generational living as a tool to increase density and affordability.
1. 9 Ways to Make Housing for People
David Baker Architects, a firm with offices in San Francisco, Oakland and Birmingham, has earned a reputation for its thoughtful, community-focused housing projects, "whether luxury, affordable or somewhere in between." This guide breaks the studio's approach into nine simple principles organized from the broadest to the most intimate—among them, Reweave the Urban Fabric, Activate the Edges and Get Personal—but it's not a formulaic checklist, as Alison Arieff explains in her foreword. "They're the furthest thing from being static and predictable. DBA sees each project as an invitation to riff, experiment, explore, and make an impact." Though the recommendations may be easier to envision than to implement, through diagrams, project images and plain language, DBA makes issues of housing approachable for architects and advocates alike.
2. Come Together: The Architecture of Multigenerational Living
"Just over a century ago, a family spanning multiple generations living under one roof was nothing worth writing a book about," says Joann Plockova in her introduction to this anthology. Indeed, in many places outside of the Western architectural canon, this sentiment still holds true. But recent economic trends, including dwindling housing supply (and with it, decreased affordability), have prompted families to reconsider this way of life. Replete with stunning project imagery, this collection of case studies spotlights stellar examples of housing that embrace multi-generational living, from D'Arcy Jones's angular Double Header House in Victoria, B.C., to a London kindergarten block turned co-housing development by Henley Halebrown. While Plockova acknowledges that many of the high-end, architect-designed homes featured are financially out of reach for those who need them most, they offer important precedents for the future of the typology—and proof that, while multi-generational housing may afford less private space, it offers much in return.
3. Nueva Vivienda: New Housing Paradigms in Mexico
After attending a conference on Mexican housing in early 2020, co-editors Jesús Vassallo (an associate professor at Rice University) and Azure contributor Sebastián Lopez Cardozo wanted to introduce an English-speaking audience to the conditions and challenges of constructing these types of projects in Mexico—and to the young practitioners already engaged with these realities. Opening with a brief history of the country's housing issues—including the involvement of government, labour unions and private developers—this book highlights three key typologies through a Mexican lens: single-family homes, infill developments and high-rises. The first chapter, which begins with a conversation between the editors and architects that include Héctor Barroso and Gabriela Etchegaray, considers the role of the single-family home as a site of architectural experimentation. This dialogue gives context to the case studies that follow, inspiring examples that rethink contemporary housing, immersed in Mexico's rich cultural context.