By
Chelsea Johnson, AIA and Jonas Weber, AIA
February 2023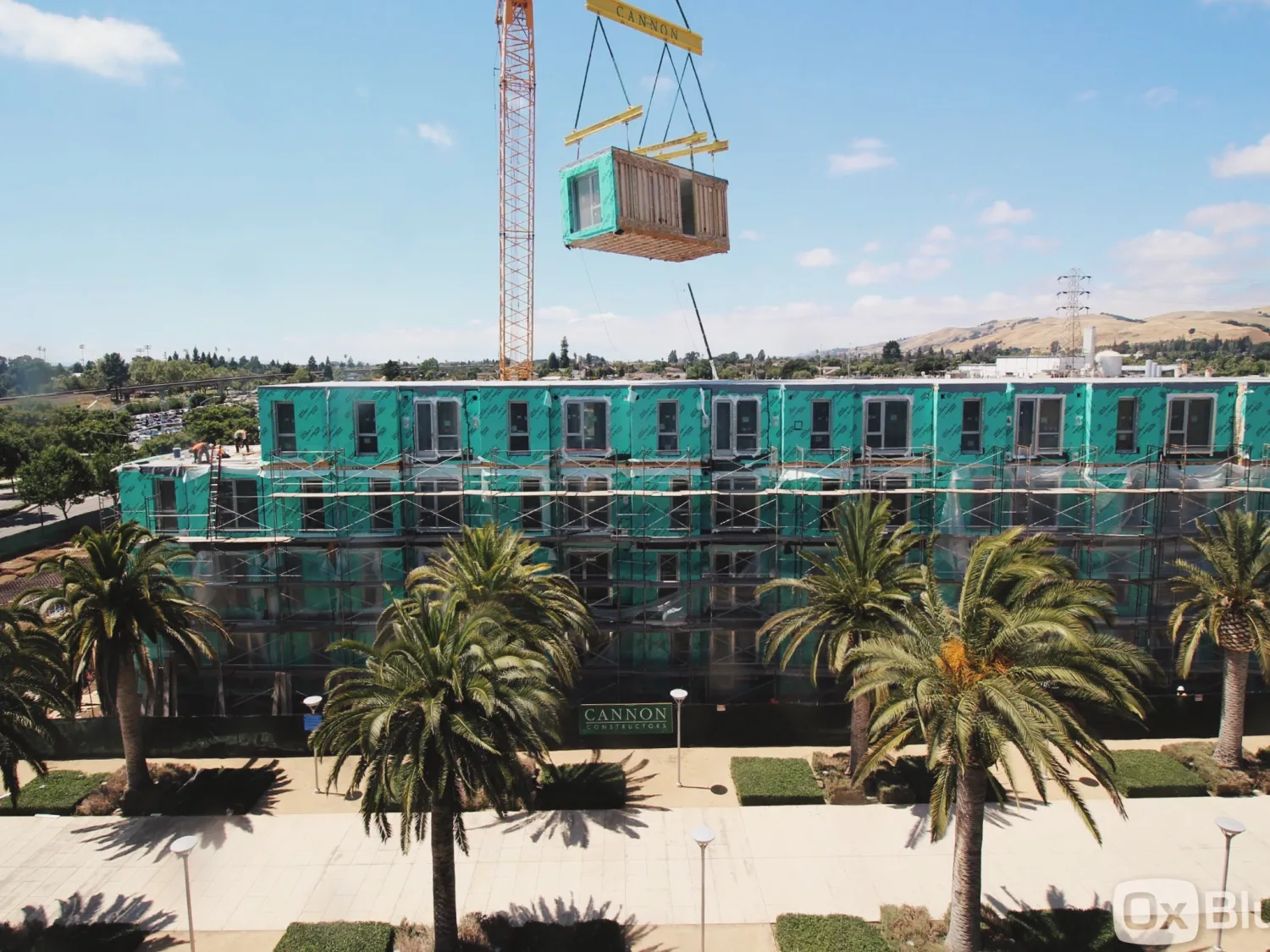 With more than 15,000 units of multifamily housing designed and built over a four-decade-long practice, David Baker Architects (DBA) has been at the forefront of affordable and market rate multifamily housing design nationally. As a firm, we've always been a great admirer of Rural Studio founder Samuel Mockbee's concept of the Citizen Architect: making our communities better through our profession, including where design extends into the socio-economic context. We find engaging in the greater dialogue where architecture intersects social need, economics, policy, and construction innovation especially rewarding. Our experience over the last six years with modular factory-built multifamily housing exemplifies this interest; this typology sits at the nexus of a range of levers that have the opportunity to meet a growing societal need for housing.
Modular construction has a long history, and it has been emerging in the past decade to achieve multifamily housing at an increasing scale. Ten years ago, in 2013, Michael Maltzan Architecture completed the Star Apartments, which was selected as one of Time Magazine's "25 Best Innovations of 2015." At six stories and with 102 units of affordable housing, the building was one of the first large-scale multifamily projects in California to utilize modular construction. Especially inspiring to us at DBA, the project paired the promise of modular technology with impressive design ambition.   That same year, DBA began work on our first modular project, The Union Flats, a 243-home transit-oriented community in Union City, California, completed in 2018.
Modular for multifamily was beginning to be tested with ambition and at scale in the US. During this timeframe and across the country, SHoP Architects was working on the Pacific Park development in downtown Brooklyn, a 32-story volumetric modular multifamily building completed in 2016. By 2016, five Bay Area modular multifamily projects ranging from 23 to 444 units had been completed—four by ZETA Communities, based in Sacramento, and one by Guerdon, located in Idaho.
Then, in 2017, amidst soaring costs of conventional construction and a mounting housing crisis the Bay Area's first modular factory—Factory_OS—opened. Many wondered if this would be the moment modular multifamily housing rose to truly contribute in helping address these issues and overcome past failed start/stops associated with prefab movements. arcCA's last issuance dedicated to modular housing,"Prefabrication for Housing: a Compendium," also occurred in 2017, indicative of the buzz of the moment.
DBA has since completed five modular multifamily projects, with two more to be completed this year, totaling 955 homes. In this article, we describe our experience within the context prefabricated housing's storied history, highlighting innovations and hurdles along the way.
CONTEXT
There are many 'flavors' of prefabricated modular construction for housing, including panelization, manufactured/mobile homes, and what we focus on here: volumetric modular construction, the process of fabricating completed units (comprised of finished walls, a floor, and ceiling) as modular boxes in a factory that are then transported and stacked on-site.
Prefabrication has a long history of uses and explorations starting in 1830 with the first known documented prefabricated home—the Manning Portable Cottage built by a carpenter in London to ship in pieces to his son in Australia. Between 1908 and 1940 Sears Roebuck and Co. sold more than 500,000 catalog homes. The years following World War II saw a boom in modular factories for single family homes to address a severe housing shortage, in the construction of 200,000 modular homes. Safdie Architects' Habitat '67 for the Montreal World's Fair, which used prefabricated concrete forms, was the first large-scale attempt at using prefabricated construction for multifamily housing. It rose to be included in the cannon of architecture history for its aesthetic and ambition but at the same time was widely unsuccessful in terms of budget and function.
Finally around the 2000s, architecture firms cropped up with a growing interest in prefabricated residential construction to "bring design to the masses," this included firms such as Michelle Kaufman Design and many others. But, as previously mentioned, it isn't until very recently that modular housing had been utilized for multifamily in the US. Multifamily housing has an economy of scale and built-in repetition that presents a compelling opportunity for leveraging the innovations afforded by factory-built construction (particularly for studio units which can be built in self-contained modules).
The pressures on housing reached a boiling point in the late 2010s in the Bay Area. Soaring construction costs, a mounting housing crisis, snail's-pace project approvals, and community opposition made the importance of delivering units faster and more cost effective ever more pressing. It became clear that innovation in construction methods was an important part of the equation where bold action needed to take place.
INNOVATIONS AND LESSONS
Are technology and financing innovations beginning to converge such that we can make affordable modular housing a reality? We're going to look at a case study DBA project, Tahanan Supportive Housing, which took advantage of modular lessons learned and refinements in the factory-built-housing industry to realize some of the modular promise.
Case Study
The first modular affordable housing project to be completed in San Francisco, Tahanan serves as a prototype for beginning to address the local housing crisis by alternative means—including modular as a key component. Through these innovative approaches—including employment of California Senate Bill 35, which streamlines the permitting process for affordable housing—Tahanan met its stated, unprecedented targets: Complete the development process, from land acquisition to occupancy, in under three years and at a budget of under $400,000 per unit. Built by Cahill Contractors with modular fabrication by Factory_OS, Tahanan opened in 2021 with 145 permanent supportive homes and services for people exiting homelessness to San Francisco's SOMA neighborhood.
In San Francisco, affordable housing typically costs more than $600,000 per unit to build and, in 2022, took more than 600 days just to obtain construction permits (completion typically coming another 18 to 24 months later). Tahanan's development team turned to unconventional methods to make progress on the city's aggressive housing goals. Tahanan was developed by a partnership between Mercy Housing California, Tipping Point Community, and the San Francisco Housing Accelerator Fund (SFHAF) as the pilot project for the SFHAF's Homes for the Homeless Fund. As a new model for design, financing, and development of permanent supportive housing, the project offers a repeatable path to reducing project costs by more than one third and total development time by half.
The Tahanan model employs an innovative financing solution made possible largely by private sources. The scheduling requirements of affordable housing financing are often in conflict with the design, permitting, and construction schedule—especially for modular projects. Affordable housing funding is typically obtained through local and state sources, which can trigger additional reviews and lead to inordinate permitting delays. Additionally, in conventional site-built construction, when public funding is used for affordable housing, it requires that the first draw of a construction loan, used to pay the contractor, occurs at groundbreaking. In modular construction, a large deposit (often 20 to 25% of the total contract amount) is due to the factory at the outset of pre-construction services, many months before sitework commences. SFHAF's private financing model made funds available for an early deposit to the modular factory, enabling factory work to begin more than five months before groundbreaking. This concurrent construction made it possible for the six-story building to be topped out in a span of eight months with fully finished residential units, a process that typically takes at least twice that duration in conventional site-built construction.
As with all assembly line production, minimizing variation maximizes the potential for speed and efficiency. Tahanan's small studio unit type applied this essential factory principle by way of one single, repeated unit floor plan. Variation occurs only at the building exterior, where responses to potential views and sun-shading strategies dictate different façade designs and window locations. Numerous inefficiencies arise when a housing unit requires the on-site completion of interior finishes and infrastructure between two side-by-side modules. The small scale of a Tahanan studio unit, confined to the limits of the 12-foot-wide module, maximizes the amount of work that can be completed in the factory. Prioritizing completion of a studio unit on the factory floor also makes for the most efficient MEP solutions, in which units' systems are largely self-contained and completed within the unit, with single points of connection to the building's air, power, and plumbing systems.
The undulating, perforated metal rainscreen façade at Tahanan, developed in collaboration with BOK Modern, a San Francisco-based fabricator, is a design expression born out of a need to resolve a common challenge to modular projects—misalignment of the stacked modules. Wood-framed modular construction is developed to an industry-standard quarter inch per 10 feet construction tolerance. Additionally, the stacking process has inherent imprecisions—craning a 20- to 30,000-pound module into place and manipulating its final position by hand is an exacting process, and only as precise as site conditions and hand tools will allow. Combined, these two concerns often lead to significant misalignments in exterior walls, the fix for which can cause cost and schedule increases. Tahanan's unique metal cladding system is in many respects generated in response to this issue. The building's steel and aluminum siding panels have integral mounting tabs which fasten directly to the exterior wall surface without the need for an additional furring system. The panels, about 10 feet long, are oriented vertically to bridge across variations in misaligned walls. The folding, undulating profile of each panel and staggered panel installation adds depth and character to the building's façade, yet also is designed to mask such variations. Every project will have its own criterion for determining the most appropriate exterior cladding. This example shows how innovative design detailing can resolve challenges caused by the inherent imperfections of the modular stacking process.
The innovations that have occurred over time to make modular for multifamily realize some of its promise over the last decade are far-ranging and touch not only design and construction but also financing models. These models allow mobilization of upfront money for factory assembly far earlier than the on-site ground breaking moment. Taking advantage of the efficiencies of modular to the greatest extent possible maximizes the savings potential that makes it attractive to developers and funders over site-built construction. And, finally, those design detailing discoveries that transform a challenge like construction tolerance into an elegant design solution are particularly gratifying. In the case of Tahanan, all of these aspects came together to deliver high-quality housing design at record affordability to some of our most vulnerable residents in San Francisco.