By
Madeleine D'Angelo, ARCHITECT Magazine
February 2021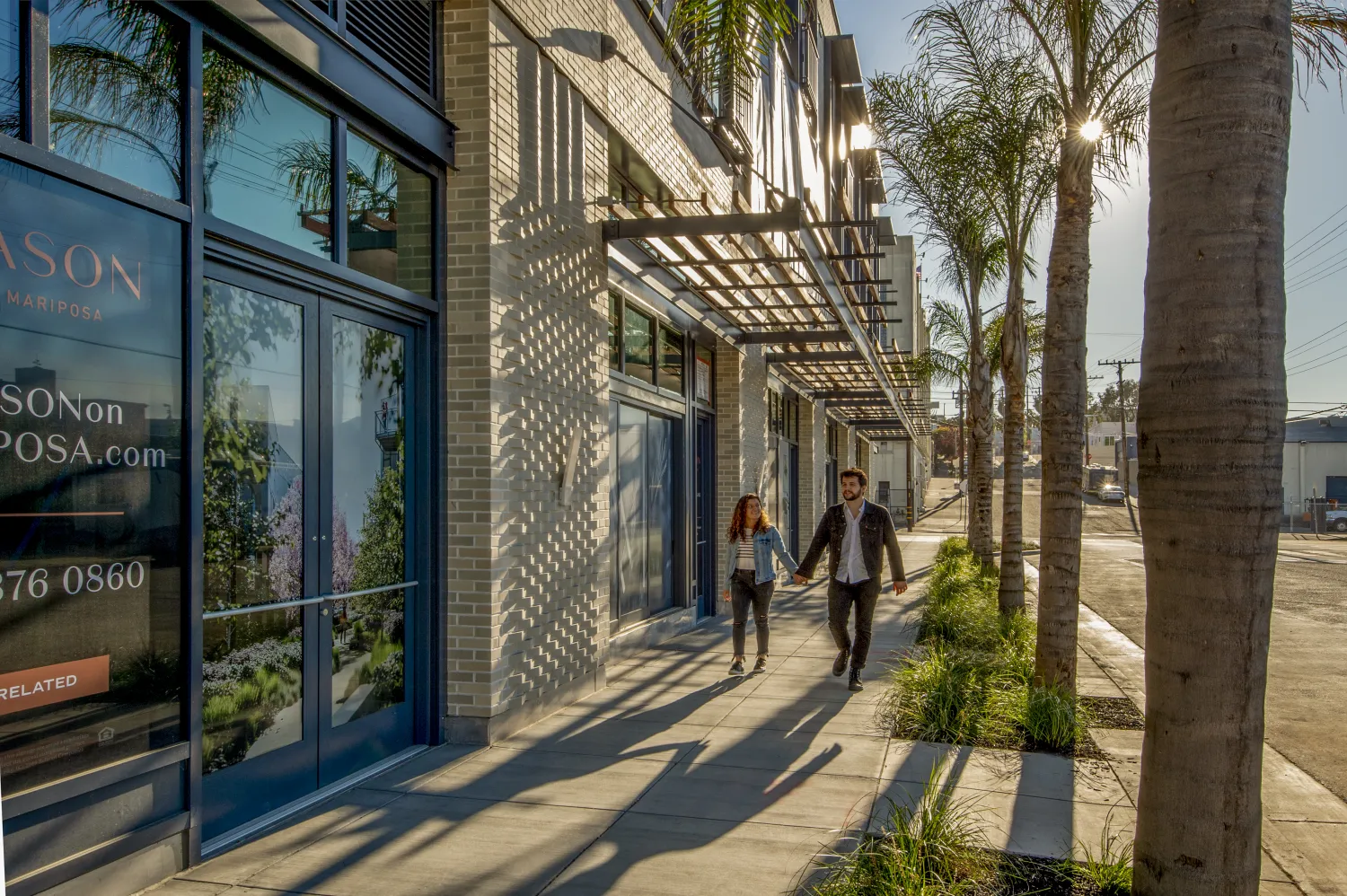 Image Credit
Craig Cozart​
A few years ago, when David Baker Architects began work on Mason on Mariposa, a mixed-use project in the Potrero Hill neighborhood of San Francisco, it marked a return to the firm's past. Directly across the street from the new site, in the 1990s, the San Francisco–based firm had completed its g2 Lofts, transforming an abandoned railroad tunnel into a sloped collection of lofts and apartments. That project began with an unexpected discovery: an underground creek hidden below the rail line. "We dug a hole and there was this giant pipe, which was not on any of the maps because they put it down in the 19th century," says DBA founding principal David Baker, FAIA.
Now DBA was tasked with designing a new development along that same rail line. Spanning a city block between 18th Street and Mariposa Street, the resulting three-building, 413,150-square-foot project, completed last June, turned a 3.4-acre parking lot into a residential hub that aspires to make connections with the surrounding community. Instead of building atop the creek, the architects extended an existing easement along its path, creating a greenway connected to a "fine-grained network" of public mews. "By defining those mews, they more or less instantly became a part of a network of neighborhood streets and passageways," Baker says.
Mason on Mariposa comprises three separate buildings, each framing the project's greenway. A mixed-use building, designed by the local firm BAR Architects, sits on the site's northwest corner and contains a leasing office and 5,500 square feet of retail space. It serves as an entry point for Mason West and Mason East, the project's two residential structures. Between them, the three buildings contain 299 units, from studios to three-bedroom apartments, 62 of which are designated as affordable housing.
DBA relied on a simple material palette to create cohesion between the structures, as well as the firm's g2 Lofts. The architects balanced affordable materials, such as Hardie board random batten siding, with higher-end accents, including zinc bays and a copper façade for the leasing pavilion. Touches of durable, FSC-certified tropical hardwoods add a warmth to the residential balconies, ground-level stoops, and the façades of Mason East and West, creating a welcoming public space.
The public greenway's thoughtful curves further encourage moments of community. Designed by the local urban design collective Fletcher Studio, the space is "based on the way the creeks flow" and "creates social eddies," says founding principal David Fletcher.
That's one of Mason on Mariposa's defining ambitions: to attract a community of residents, neighbors, and pedestrians alike. We wanted to "do something that is part of the city, part of the urban fabric," Baker says. "We want it to be good for a long time."
PROJECT CREDITS
Project: Mason on Mariposa, San Francisco
Client: Related California
Design Architect: David Baker Architects, San Francisco. David Baker, FAIA (principal), Daniel Simons, FAIA (principal), Stephen Doherty, AIA (associate), Yes Duffy, AIA (former associate)
Design Architect (Mixed-Use Building): BAR Architects. Chris Haegglund, AIA (principal), Zach Prowda, AIA (associate principal)
Executive Architect: Ankrom Moisan
Landscape Architect: Fletcher Studio
Interior Designer: Marmol Radziner
Structural Engineer: DCI Engineers
M/E/P Engineer: CB Engineers
Civil Engineer: Sandis
Contractor: GL Builders
Size: 413,150 square feet (project), 146,284 (site)
Number of Units: 299 (studio: 75 / 1-BR: 86 / 2-BR: 118 / 3-BR: 20)
Cost: $130,000,000
MATERIALS AND SOURCES
Washer and Dryer (stacked): Bosch
Bathroom Fixtures: Blanco pull-out with dual spray faucet, MAC electronic faucet
Bathroom Countertops: Blizzard White by Caesarstone
Carpet: Carpet Tile by J+J Flooring Carpet, Tile Shaw Contract, Buzz Worthy Broadloom by Bentley Carpets
Concrete: Amenities flooring by Concrete Collaborative
Frabrics and Finishes: Taffard Fabrics Tiger Leather Kieffer by Rubelli PPG Paints Dunn Edwards
Flooring: Spec Ceramics / Ornamenta floor tile Oregon Lumber end grain wood flooring
Paints and Finishes: PPG Paints
Plumbing and Water Systems: Toto
Lighting: Tegan Exton Powerspan System, Selux Olivio, B-Light 112 Slim
Garden Lobby Metal Trim: Schluter Systems
Masonry and Stone: Mutual Materials brick
Wallcoverings: Trikes, Calico Wallcovering, Area Envrironments, Maya Romanoff, Rebel Walls, York Contract, Flat Vernacular, Quercus & Co., Black Crow Studios, Fayce, Designtex, Phillip Jefferies
Building Front Doors: K-Doors by Pacassa Studio (custom)