April 8, 2023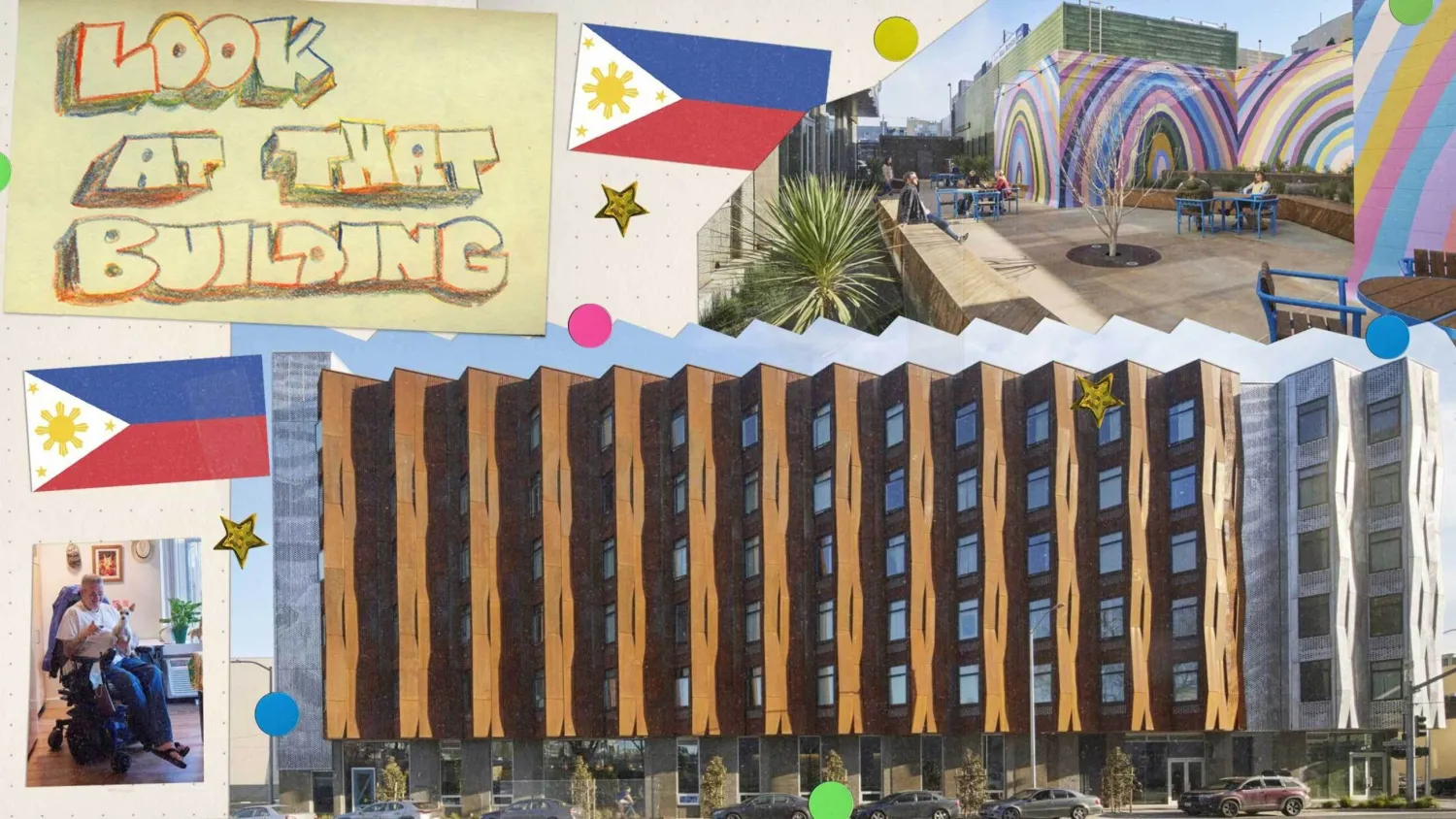 Image Credit
Bruce Damonte, Illustration: Stephanie Davidson
Austerity and efficiency aren't the first words that come to mind when you see the angled sawtooth bays of Tahanan Supportive Housing, or catch a glimpse of a rainbow through its lobby. But the dramatic exterior and joyful interior of this San Francisco building are both products of their constraints.
When David Baker Architects was approached to design the six-story development, the goal was aggressive: Produce 145 units of permanent supportive housing at under $400,000 a unit, and have the operation up and running in less than three years. The firm accepted the challenge, and by 2022, Tanahan was fully leased to residents, all of whom are San Franciscans who have struggled with chronic homelessness.
In a city where affordable units typically cost $600,000 to $700,000 each to construct, keeping in budget and meeting the deadline meant turning to the modular building company Factory OS. It also meant keeping variation at a minimum. The studios are identical, like Lego blocks; instead of being mirrored across a hallway, they're just rotated 180 degrees. But nothing else about the building feels utilitarian.
Knowing the building was located in San Francisco's Filipino Cultural Heritage District, architects met with local organizers from community association SOMA Pilipinas to find ways to bring Filipino cultural influences into the design. That influence starts with the name Tahanan, which comes from a Tagalog word evoking "home," and recurs in the building's materials and shapes from base to roof.
On the ground floor, unfinished exterior walls have been lovingly — and imperfectly — textured by pouring concrete into molds lined with traditional Philippine banig grass mats and bamboo rods and letting it dry. The concrete subcontractor was so jazzed about the method that he drove down to Southern California to pick up more banig when they were short. "They said, 'We've been working on parking garages and water treatment facilities — this is so refreshing,'" said Jonas Weber, an associate at David Baker Architects and the firm's modular lead.
Up higher there's a pointillist interpretation of the centuries-old rice terraces that are carved into the Philippine mountains. The image is created by perforating the BOK Modern-produced aluminum screen that encases the building's staircase tower. The Swiss-cheese holes create a shimmery effect, which starts at one corner and culminates on the other, used to disguise exhaust vents along the way.
The rest of the building facade takes the art of Philippine basket weaving as its muse, formed by interlocking panels of rust-brown sheet metal, also a BOK Modern production. "We developed this kind of repeated pattern of panels that are undulating and tapering in and out and staggered in such a way that it starts to feel like it's woven," said Weber. "It feels like it's bringing the building down to a more accessible and human scale."
It also allowed them to mask some of the inconsistencies that show up in modular construction, like misaligned exterior walls.
As much as the facade invites passersby to look upward at the building, the jutting windows also consciously direct the gaze of residents outward to San Francisco's skyline — and away from the Hall of Justice just across the street. The building would be an unwelcome view for anyone, but architects thought that would be especially true for the formerly unhoused tenants who may have had experiences with San Francisco's criminal justice system. "We knew we didn't want these units to look right at the Hall of Justice — it just felt cruel," said Daniel Simons, the principal at David Baker Architects who led the project. "And it allows us to do something that I think really defines the character of the building."
The first level is guided by principles of trauma-informed design, which emphasize gathering spaces both private and public. A lobby area leads into a spacious community room and then to a courtyard, designed by landscape architect David Fletcher. Here a freestanding concrete wall left behind on the property was transformed by bright murals inspired by the artist Wendy Heldmann. Her original art hangs in the hallways, while the pastel arches in Tahanan's backyard were recreated, Sol Lewitt-style, by union painters using Heldmann designs. Her distinctive rainbow paintings are typically made with paint left over from other projects.
"There was something really beautiful in giving the paint a second chance," said Weber, "in ways that were kind of consistent with this project as a supportive housing project." In this case, it was the ugly leftover wall that was given a second chance rather than be demolished at great expense.
Typically, affordable housing projects don't have the budget or luxury of time to be "arbitrarily formal" or "gratuitous," said Simons. Still, "there are lots of moments where in the process of doing these affordable housing projects, opportunities arise for doing something sort of special or unique," he said.
Getting something like Tahanan built took a special kind of alchemy: an entitlement process streamlined via state law; a budget bolstered by private funds; and a window of opportunity to erect a factory-built structure in a city that is famously hostile to the method. Tahanan is the first of a small handful of modular affordable development in San Francisco. But you'll soon recognize its silhouette in the nearby city of Santa Cruz, where David Baker Architects is at work on another supportive housing project with a familiar jagged facade — and an entirely new vision for what will make it pop.
View the full article: Inspired by Filipino Design, an Apartment Building Looks Homeward in Bloomberg.