By
Daniel Simons, FAIA, LEED AP and Jonas Weber, AIA, LEED AP, UrbanLand
Spring 2021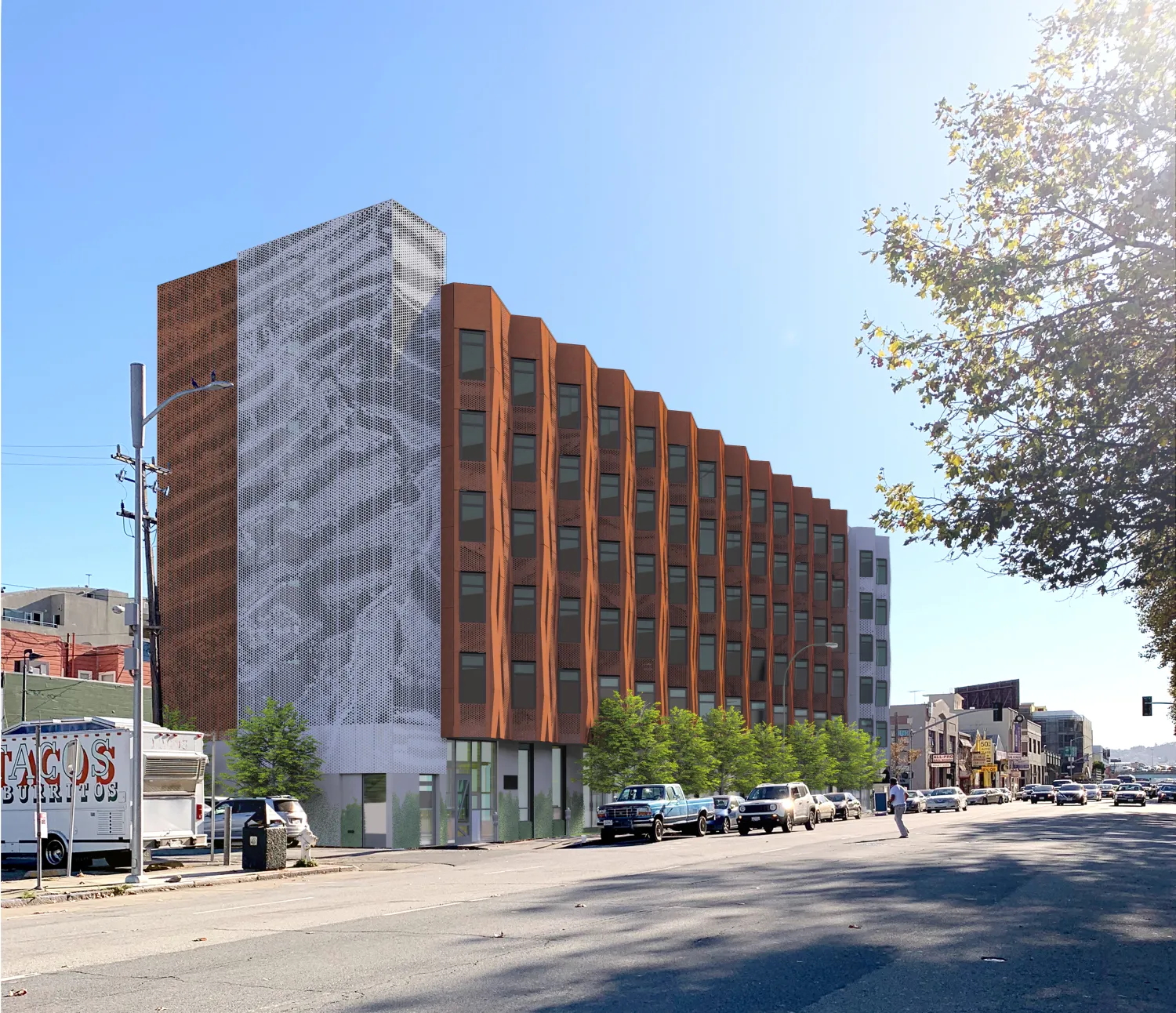 Image Credit
David Baker Architects
Modular housing is on the way for San Francisco's unhoused residents.
This August, if things go as planned, 145 new apartments for formerly homeless adults will open in San Francisco, one of the country's most expensive housing markets.
Tahanan Supportive Housing, located in San Francisco's South of Market (SoMA) neighborhood at 833 Bryant Street, will be opening only three years after initial acquisition of the site. The project not only had a compressed timeline, but also aggressive budget goals. The solution was found in an innovative combination of philanthropic funding, new regulatory streamlining, and modular construction. 
While modular construction has long lurked at the edges of real estate development with the tantalizing promise of time- and cost-efficient housing solutions, Tahanan has made it clear that simply accelerating construction is not sufficient to achieve the ambitious goal of solving California's homelessness crisis. Drawn-out bureaucratic processes and rigid financing structures also need to change (or be circumvented) in order to realize the full advantage of modular construction's speed and efficiency. 
According to a recent report from the Terner Center for Housing Innovation at the University of California, Berkeley, building affordable multifamily housing in San Francisco typically can take five to seven years or even longer from site acquisition to move-in, with total development costs (excluding land acquisition) ranging from $500,000 to $740,000 per unit. On the recommendation of a mayor working group, the City in 2017 launched a public/private partnership called the San Francisco Housing Accelerator Fund (HAF) to more efficiently develop affordable housing. HAF operates as an independent nonprofit organization committed to reducing project costs and speeding up the preservation and production of affordable homes in partnership with the public sector. Funds from the city, philanthropic organizations, and financial institutions are central to its efforts. 
When one such local philanthropic anti-poverty organization, Tipping Point Community, reached out to HAF to create a new model for building housing for homeless families, the idea of Tahanan Supportive Housing emerged. 
Tipping Point secured a $50 million commitment to back the effort, enabling HAF to purchase a parking lot from a private owner in October 2018, thus avoiding the often lengthy process of developing on a publicly owned site. An amendment to the city planning code, passed just after the site was purchased, rezoned the property to make 100 percent affordable housing an eligible use. The site is located near public transit options, grocery stores, and community parks that provide the infrastructure essential to the success of resilient affordable housing. 
Tipping Point and HAF then turned to Mercy Housing California, an experienced local affordable housing developer that has been working in this area since the 1980s, and San Francisco-based firm David Baker Architects to design and build the housing. 
In addition to the land acquisition, Tipping Point's funds made it possible to pay upfront costs to Factory OS, a manufacturer of modular housing based in Vallejo, California--something that would have been more challenging to do within a typical affordable housing finance schedule. Tipping Point's funds also covered other pre-development expenses. A mortgage, funded with tax-exempt private activity bonds, repaid some of the HAF money, the rest of which will be repaid using equity from low-income housing tax credits (LIHTCs). 
Once Tahanan is completed, San Francisco will master lease the building from HAF for 30 years and subsidize operations; when the lease term is up, the city will have a right of first refusal to buy the property from HAF. The building will continue to be owned by the Mercy Housing-led partnership 833 Bryant L.P., in compliance with LIHTC regulations and as is necessary to qualify for a property tax exemption. 
Coordinating Construction
Together HAF and Tipping Point Community set dual goals: complete the project in three years from purchase of the site to resident move-in, and contain costs to no more than $400,000 per unit (including land costs). These goals will be met in part because of eased regulations instituted under California Senate Bill 35. Passed in 2017, S.B. 35 requires local governments to approve qualified affordable housing projects within 90 days after an application is submitted. The timeline also benefited from the fact that modular construction allows for concurrent work to be done both in the factory and on site. Built into that accelerated schedule was the critical step of troubleshooting a completed factory prototype unit before production. 
Support from Tipping Point and HAF meant that Mercy Housing was able to give Factory OS the go-ahead to start building units seven months before bonds for the project were issued. This not only sped construction, but also eliminated seven months of interest costs and the cost of escalation over the same period—an estimated savings of about $600,000.
Tipping Point and HAF also assumed the sometimes difficult-to-insure risk of using modular construction. Typically, general contractors are unable to extend their insurance to cover modular companies in case those companies go bankrupt, suffer damage in a fire, or simply fail to deliver units in time. Similarly, most lenders will not provide a loan to a project that is not fully insured. Tipping Point and HAF were willing to assume this risk because they are mission-driven organizations; over time, as modular companies become more mainstream and factories more established, securing insurance will likely become easier. 
To maximize cost containment, the design of the building had to be optimized for modular construction. The ground floor, with large irregular spaces like those for retail and residential services, is significantly different from the upper floors and was best realized with site-built Type-I fire-resistive concrete construction standards. The upper five floors, all residential, are entirely modular and set on the level-two concrete podium. Each module contains two studio apartments with a corridor between them. The compact units, measuring just 260 square feet (24 sq m), are largely identical in order to align with the efficiencies of the factory process, all helping reduce time required and costs. The units have extensive built-in elements to organize and maximize the efficiency and comfort of the spaces as well as to minimize the wear and tear caused by moving large pieces of furniture in and out of the building. 
Another typical hurdle in adoption of modular construction is the lack of familiarity that most subcontractor trades have with the process. To facilitate training, the project team had Factory OS stack two modules on the factory floor, giving subcontractors an opportunity to consider the best methods for completing installation of utilities and structural systems on site. 
Designing for Community
The site is part of the SOMA Pilipinas Cultural District, which the city established to highlight the culture and contributions of the Filipino American community. As part of its community engagement efforts, the project team reached out to the SOMA Pilipinas Arts & Culture Committee, a collaboration that turned out to be an abundant source of inspiration to the designers. 
The cast concrete of the ground floor incorporates the pattern of traditional banig, an often colorful handwoven grass mat commonly found in homes in the Philippines. The graphic lines of terraced rice paddies of the Philippines are prominently represented with a custom perforation pattern on the building's metal rain-screen panels, fabricated by BOK Modern. The paint colors for individual unit doors are drawn from a bright palette contributed by SOMA Pilipinas. 
In addition, the design focuses on building community among residents through thoughtful integration of architecture and landscape, the latter designed by San Francisco-based landscape architecture firm Fletcher Studio. The interplay between indoor and outdoor spaces not only facilitates social connection by providing people with places to gather, but also visually connects the public and private areas with portals linking the street and lobby, community room, and courtyard. Retail space on the ground floor helps activate the pedestrian realm. 
Tahanan Supportive Housing is on track to meet its three-year, $400,000-per-unit goal and points the way toward a new inclusive model for housing development that uses a public/private partnership to combat homelessness and an insufficient supply of affordable housing. Aptly named with the Tagalog word evoking "home," "coming home," and "return home," Tahanan provides a model for future housing, and the success of this innovative approach clears the path for the provision of more homes for more people more quickly.