By
Joseph Martinez [ByDESIGN]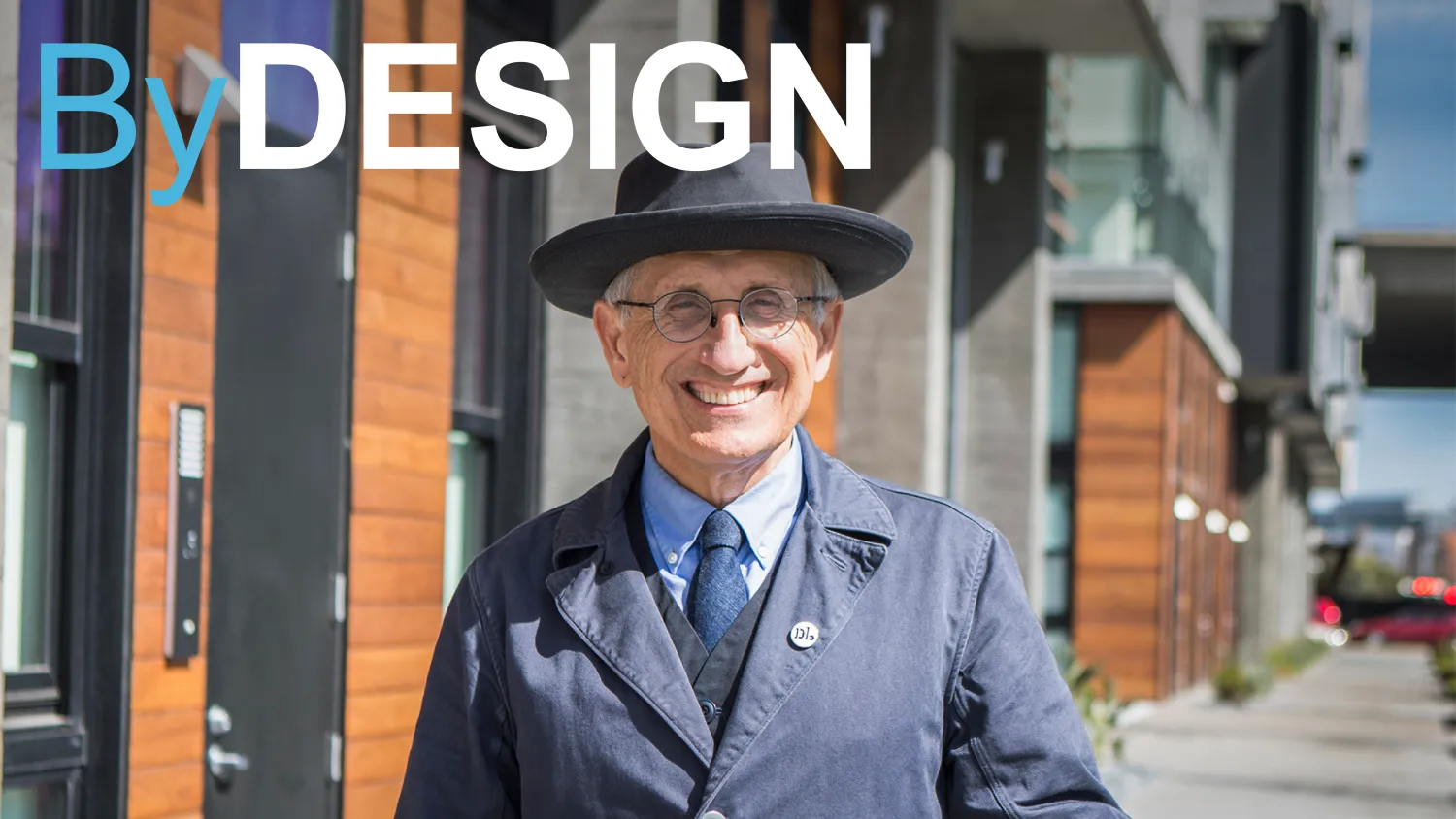 David, your career took off in a flash—as I recall, around the early 1980s, you along with Philip Banta and Tony Cutri formed SOLARC, and won the State of California Energy Efficiency Competition. This was when you all were graduate students at UC Berkeley College of Environmental Design, Master's Program in Architecture. Over the past 40+ years you've blazed an elegant trail—what stands out?
The entire journey has been great, right from partnering with ELS Architects while a graduate student in the CED's three-year program, where we were finalists in the international Energy Efficient State Office Building Competition, through founding the energy consulting firm Sol-Arc, and on to building robust relationships with non-profit developers to design and build more than 8,000 affordable homes over 40 years of practice. 
After moving from an early start in Berkeley, DBA has been based in San Francisco since 1988. We opened an Oakland office and fabrication shop DBA_Workshop, in 2015, which has changed the way we design and detail our projects and has helped realize my dream of broadening our design practice into direct fabrication. We also made a big leap and opened an office in Birmingham, Alabama, spearheaded by Principal Amanda Loper, AIA, who is expanding our opportunities and impact across the southeast. 
We've been at the leading edge of modular housing and—most exciting—combining modular design and construction with innovative financing to really speed up housing for unhoused residents. We recently partnered with Mercy Housing-a legacy non-profit affordable housing developer and longtime collaborator and the San Francisco Housing Accelerator Fund (SFHAF), a philanthropy funded start-up, to build Tahanan Supportive Apartments.
This is permanently supportive housing (PSH) that was completed twice as fast and at half the cost of typical similar San Francisco buildings. We were able to combine off-site construction, high-performance computer-designed cladding systems, and custom-prototyped textured concrete by our Workshop to create a state-of-the-art community for 165 residents—and about 30 dogs! This also reflects cultural qualities of the SOMA Pilipinas Cultural District where the building is located.
The finished works of architecture are well thought out and have a rich complexity, filled with color, texture and diverse materials to offer the public realm a memorable experience. Can you "sketch out" the design process at your firm? And, further, how do you engage the client and users of these projects in the planning and/or design process?
A few years ago we were asked to participate in an exhibit on socially responsible design at the Cooper Hewitt, Smithsonian Design Museum. Instead of providing documentation of a single affordable housing project, we decided to really sit down and think about how we designed housing for people. 
We realized that we had been iteratively refining a guiding framework for decades, which we've now developed into a book—9 Ways to Make Housing for People—that will be published by ORO Editions his fall (www.9ways.info). It's a toolbox of strategies that work together to elevate housing design at the large and small scale. 
Our design process has opened up to more intentional inclusion of the community and client feedback over the years. Our team has developed a robust community engagement process that includes accessible and interactive in-person and online participation. 
We're also digging deeper into how to learn from our buildings. DBA Principal Katie Ackerly, AIA, CPHC, is a Cal CED grad and a national expert in Post Occupancy Evaluation (POE). She has developed an intensive tool we call the Site Evaluation Walk (SEW), which involves an inclusive group of stakeholders systematically evaluating previous similar projects before we design.
This type of feedback—walking these sites with clients and talking together with building staff and residents is most useful at the starting point of a design process. Under Katie's guidance, we're also working to embed sustainability so integrally in our design thinking that the separate goal or idea of green certification or green building is secondary.
Your portfolio features a lot of multi-family housing developments, and given you reside in the Bay Area (San Francisco, CA), what insight can you share with us on the future of urban housing, livable communities, micro-units, etc. and the affordability of housing in California, on the one hand, and other the other, place-making.
The pandemic has revolutionized urban living and work behaviors. Though they are still evolving, I believe that dense urban centers continue to be viable, but now more for the social aspects and less for the proximity to the workplace.
Now that knowledge workers can commute by opening their laptops— and then step outside for a wonderful hike without the multi-hour drive because they can live in the Sierras, the ability to work remotely is a great option for many people.
But some people still want to spend part of their lives in a dense collegial environment. So one question is: how can future housing typologies accommodate this more hybrid lifestyle? Maybe the concept is a modern pied a terre, a smaller place in the city that supplements a home base? Or more flexible shared housing that is designed for a longer residency than a hotel, but is not a permanent residence?
We should also keep in mind that many jobs require physical presence, and the urban housing shortage has especially impacted that group. They have often been forced to live a great distance from their work, a situation that negatively impacts them and also places a huge burden on the economy of California. For example, much of the huge cost inflation of construction is due to the limited pool of both skilled trade and other workers.
It's incredibly important to increase the amount of very affordable housing in urban centers, which requires public investment, as well as "workforce" or "missing middle" housing, which should be the purview of the market-fostered and enabled, but not directly subsidized.
Fortunately, the efforts of YIMBY housing activists at the State level have made significant progress in breaking through the barriers that have hobbled the market in meeting this need. There is a lot of work to be done here as well.
How has teaching (e.g., UC Berkeley, University of Oklahoma, Georgia Tech, and California College of the Arts) influenced your design aesthetics, and how has teaching changed since you were at Cal? 
New ideas primarily originate from younger people, and that continues to be true. With architecture there is a process of folding those ideas into the pragmatic world of constructability, durability, and codes. That's why I think the development of Design/Build Studios has been so great for students and the practice of architecture.
Cal has had some excellent classes focused on design-build. Auburn's Rural Studio is also a leader in this, taking the class to the next level with students spending years designing and constructing a library, community center, or— in the case of DBA Principal Brett Jones, AIA, a skate park. We value design-build experience so much that more than 10% of DBA architects have come from the Rural Studio.
You attended Philip Exeter Academy (prep school), have a BA in Philosophy, and Masters in Architecture. What would you tell the current/next generation of architects —those that are in school today—what you'd do differently, and/or what you missed-out on, and further, your "passion" with the profession.
I have no regrets. Seriously, follow your passion and don't worry about whether it will work out. One of the most positive developments in architectural practice has been the gradual transition from hero architect to collaborative team member. We are so much stronger together.
What other ventures have you undertaken and what's next for David Baker?
For years I have been the chief "pot stirrer" at DBA: the "why don't we look at that this way" guy, challenging myself and everyone to think outside the box. I've been stepping back for a while, creating some space for others, and some space for myself to pursue my passion as a ceramic artist.
We just celebrated the 10-year anniversary of StoreFrontLab, a participatory space in San Francisco I co- founded with my life partner, Yosh Asato, that explores the storefront as a place of community, creativity, and local industry. We have had a ton of great events over the years. It is part of Shotwell Design Lab, the little compound in San Francisco's Mission District where I live and now also have my pottery studio