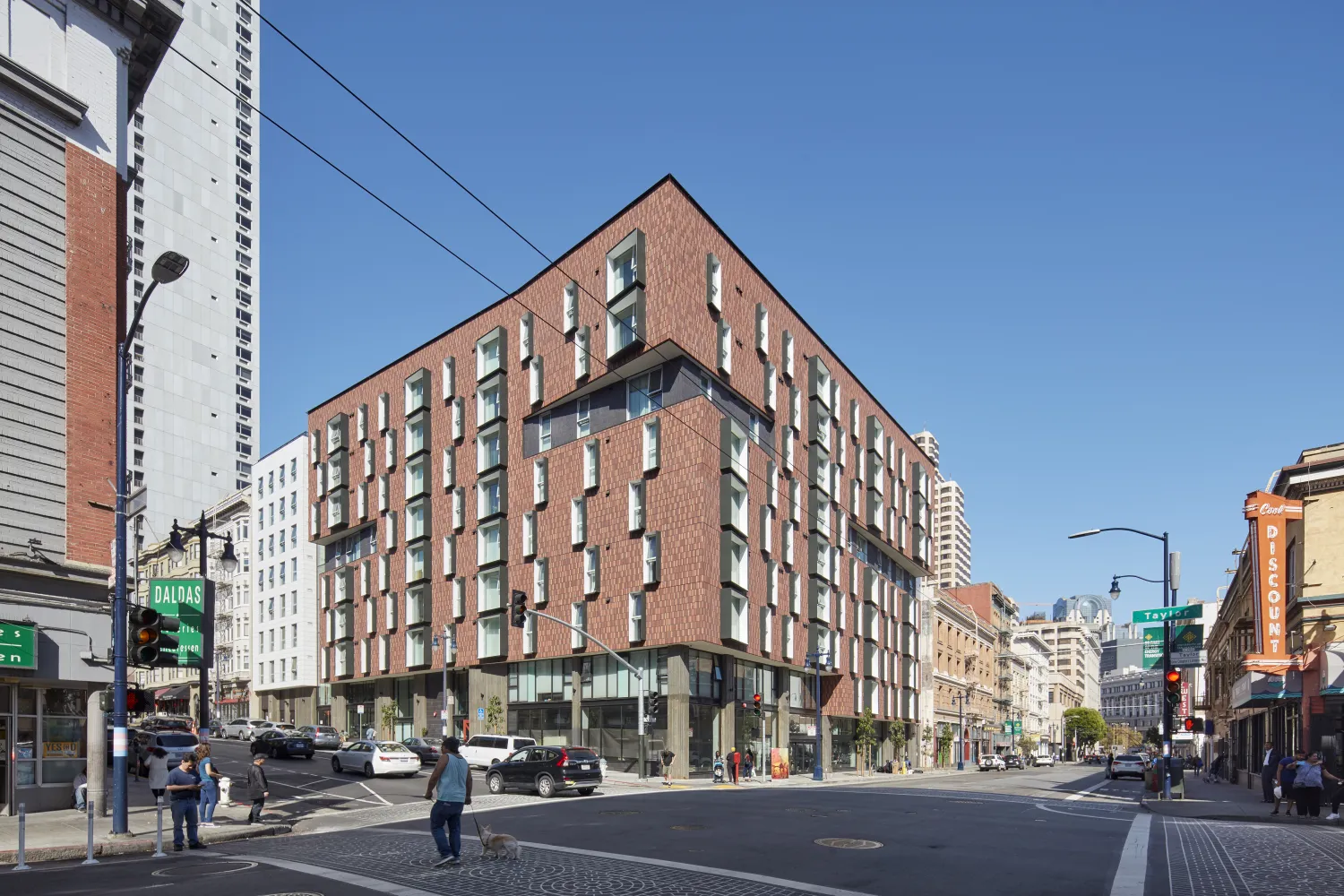 Image Credit
Bruce Damonte
When 12,000 architects descended on Moscone Center last week for their annual convention, they could attend panels on such topics as "Do's & Don'ts of Data Standards" and "Fundamentals of an Effective Custom Residential Contract."
But an underlying theme was the vexing reality that plagues not just California but the nation at large: the chasm between the types of housing that an ever-more varied society needs, and what actually is provided.
"Architects are very interested in their communities, and housing is a critical issue across the country," said Lakisha Ann Woods, CEO for the American Institute of Architects, which held its four-day conference in San Francisco for the first time since 2009. "There's no one-size-fits-all solution."
That's not an easy sell in a nation where single-family homes still are associated with the American dream, and the notion of multistory housing is resisted in many communities. Housing for lower-income residents is linked by opponents to crime and blight — ignoring the reality that a household would need an income of roughly $125,000 to afford today's asking price of $3,120 for rents in and around San Francisco, according to Zillow.
Another wrinkle is the obvious fact that people flourish best in different types of housing at different points in their lives.
This played out with two presentations related to recent residential complexes in the Boston area, a region facing pressures similar to the Bay Area.
One project involves housing for elderly residents in Boston that will open this year and was designed by Mass Design Group, a firm known for socially oriented architecture. Rather than the senior housing norm — long straight hallways with an identical procession of doors on either sides and a "community room" here or there — apartments are clustered into cul-de-sac-like pods of a half-dozen, along a central path that narrows and widens to create different settings along the way.
There also are small outdoor spaces sprinkled throughout the site, rather than a few large lawns that provide greenery but get little use. 
"Some people enjoy being the center of attention. Others like observing from the edge," said Jonathan Evans, a principal at the firm. "We want to provide options, invite people to feel like they are part of the collective."
For Evans, too much of today's housing push is to maximize building count rather than use design to enrich lives. This doesn't mean avoiding density — the Boston complex places the elongated six-story structure across from two-family homes — but doing it in a way that shows "deeper values have a role in the marketplace."
A different session focused on a Boston project with a much different target market: people in their 20s and early 30s looking to embark on life after college.
That project, on a site in Boston's South End that once held a newspaper plant, consists of a 14-story building with 353 bedrooms in 180 apartments. The studios are just 308 square feet, with fold-down Murphy beds. Three-bedroom "suites" top out at 780 square feet; a would-be tenant can rent a single bedroom, with the developer playing matchmaker.
Rent includes a biweekly apartment cleaning and the units are fully furnished down to the kitchen appliances — part of the marketing pitch that these aren't snug nooks but "inclusive living."
"We're trying to provide an option for couples and singles to not take up houses that can be used by families," said Janaya Hart of Elkus Manfredi, the project architect. This meant finding ways to use every square foot of interior space with an eye to livability: "Tall ceilings and big windows make a huge difference."
At least a half-dozen sessions and architect tours focused on affordable housing: how to fund it, how to design it, how to overcome political hurdles and everything in between.
At one end, members of the YIMBY group East Bay for Everyone detailed the obstacles to surmount on what architect Bryan Alcorn called "the landscape of policy and how it affects everyone." One speaker on this panel called for the adoption of shared-ownership "social housing" on the model of Vienna and Singapore. Another described efforts to add the "right to housing" to the California constitution via a statewide vote at some point in the next few years.
At the other, architects Larry Scarpa of Los Angeles and Amanda Loper delved into past projects showing how individual design moves can help to humanize low-income housing while making it visually compelling to potential skeptics.
"We can't rely on nice materials, because our budgets are tight … (but) you don't need a ton of spice in your dish to make a really good dish," said Loper, a principal with David Baker Architects, a San Francisco firm that has designed 60 affordable complexes over the years. 
In all, roughly two dozen of the 150 conference sessions touched on housing. Two looked at how to add shared workspaces to multiunit buildings, a nod to the cultural impact of COVID. There was a presentation by a federal official on designing houses in areas susceptible to wildfire, and another on psychological issues to consider when designing supportive housing for people who have been living on the street. 
The strand that linked them had less to do with quantity than quality — to strive for housing units that provide nurturing homes, whatever the price level or population cohort. 
"We need housing. We also need to do it humanely and allow for healthy living," Mass Design Group's Evans said between sessions. "These things don't need to be in conflict."
View the full article: 12,000 Architects Came to S.F. This is What They Said About the Housing Crisis in the San Francisco Chronicle.