June 7-10, 2023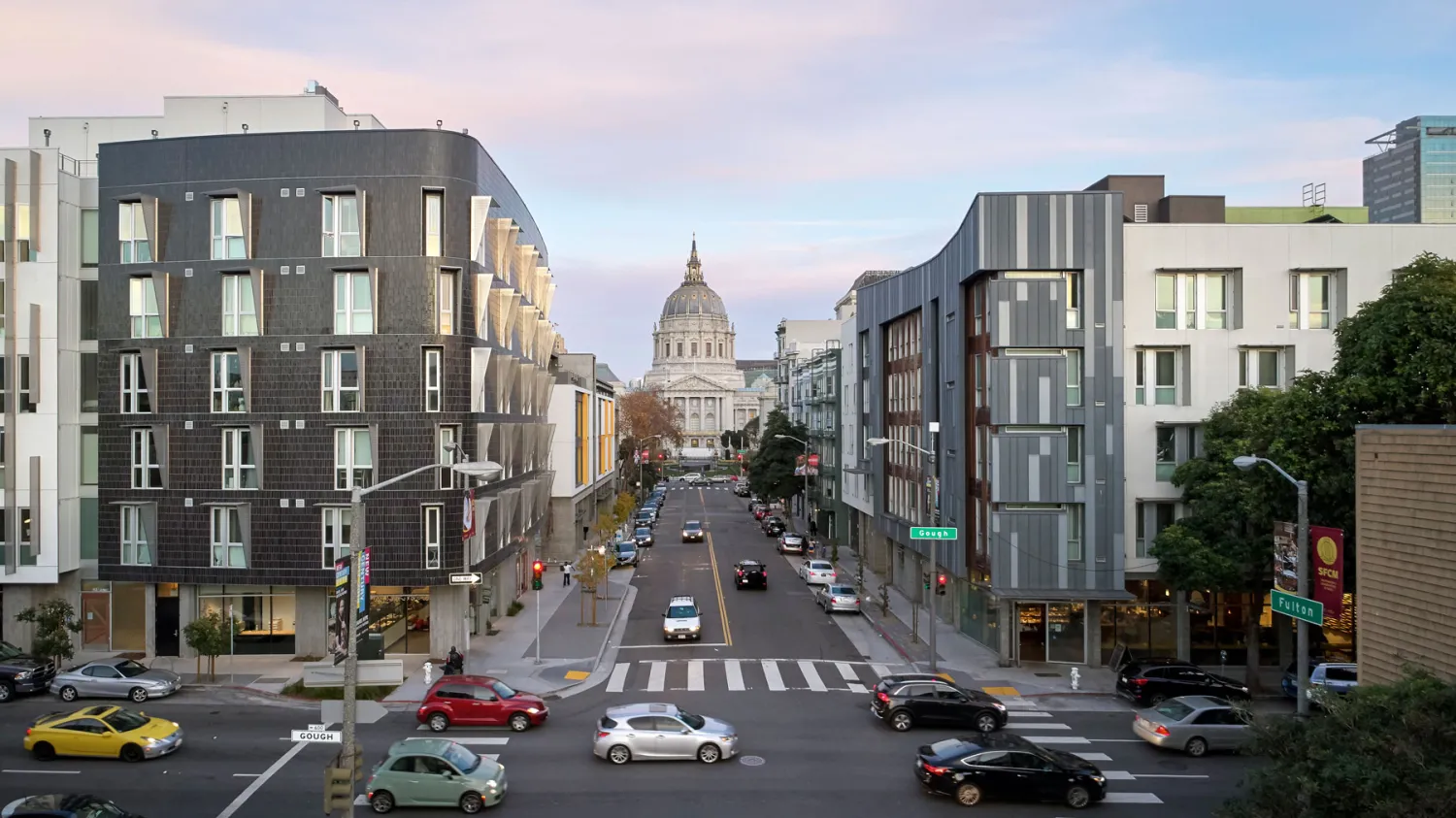 Image Credit
Bruce Damonte
A
'

23 AIA Conference on Architecture: San Francisco—June 7-10
The national AIA Conference is coming to San Francisco this summer and DBA is joining and leading a range of programs, including an Open Studio at our SF office. Register now and be sure to find us at one—or more—of these events.
[Note: This event has passed.]
We had an exciting week during A'23 and are looking forward to A'24 in Washington D.C. Thank you to everyone who joined out events or introduced yourself during the Conference. See you next year!
Thursday, June 8
[Tour] Fast Forward Supportive Housing in 10 Days
June 8, 10-11am
Daniel Simons, FAIA, Principal, David Baker Architects

Jonas Weber, AIA, Associate/Modular Lead, David Baker Architects
Imagine you could jumpstart production and produce supportive housing in under two weeks—all while reducing cost. In the SoMA district of San Francisco, Tahanan Supportive Housing has done just that, with studio homes for adults who have experienced homelessness. This tour showcases the prototype of a new financing structure for permanent supportive housing.
[Panel] Performing Beautifully: AIA COTE Top Ten
June 8, 2-3:30pm
Katie Ackerly, AIA CPHC, Principal and Sustainability Director, David Baker Architects 

/ AIA COTE Top Ten Jury Chair

Lori Ferriss, AIA, PE, Principal, Director of Sustainability and Climate Action, Goody Clancy
Michelle Amt, AIA, Director of Sustainability / Associate Principal, VMDO Architects
Avinash Rajagopal, Editor in Chief, Metropolis
A big idea is essential for great design. The COTE Top Ten Awards, architecture's best-known award program, highlight buildings with the big idea of sustainable design excellence. Each year, innovative professional and student projects are recognized for their integration of design excellence with environmental performance, equity, and climate action. These amazing projects, of different scales and from different areas, are proof that architecture can be highly performing, beautiful, and truly inspiring.
[Panel] Social Housing in America: Will Architects Answer the Call?
June 8, 2-3:30pm
Bryan Alcorn, AIA, Associate, David Baker Architects

Alex Lee, California Assemblymember, 24th District

Alex Schafran, Founder, 

Schafran Strategies
A housing crisis is profoundly affecting many communities across the United States. In 2017, AIA endorsed the fundamental human right to housing, but are architects leading to make housing for all in our communities a reality, or waiting for policymakers to solve it? In this session, learn about bold proposals for local and state-led social housing in California. Learn how social housing could help address unmet needs in communities and foster sustainable development.
[Bike Tour] Mission to Marina: Affordable Housing and Other Landmarks
June 8, 2:30-5:30pm
Mithun

David Baker Architects

Studio Vara

LMSa
Casual cyclists are welcome on this remarkable urban bike tour, which will start in the Mission District of San Francisco at Chaan Kaajal Park, then head West to the waterfront and north along the Embarcadero, ending at Fort Mason Center. Along the way, you'll stop by recent affordable housing developments and you'll also pass by several quintessential San Francisco landmarks, both new and old. The tours will feature the insights and perspectives of representatives from each office.
Friday, June 9
[Book Signing] 9 Ways to Make Housing for People 
June 9, 9:50-11 a.m.
Located near the AIA Store, by the main entrance to the A'23 expo floor.
David Baker, FAIA, Principal, David Baker Architects

Amanda Loper, AIA, Principal, David Baker Architects

Daniel Simons, FAIA, Principal, David Baker Architects
[Panel] Exceptional Affordable: High-Design Housing for All
June 9, 2-3:30pm
Amanda Loper, AIA, Principal, David Baker Architects

Larry Scarpa, FAIA, Principal, Brooks + Scarpa

Josephine Minutillo, 

Editor in Chief, Architectural Record
Low-income, affordable housing used to mean fortress-like structures that were soulless and cheaply built. Today, architectural approaches to affordable housing have expanded and matured, leading to projects that are well-designed and incorporate creative social programming, cutting-edge forms and materials, sustainable design, and a keen sense of aesthetic. This session will explore new models that have transformed affordable and low-income housing into innovative architecture.
[Open House] DBA Studio Visit
June 9, 6-8:30pm
Join us for a happy hour at our San Francisco office during the AIA'23 conference where we will be featuring special guest, Creativity Explored.
Celebrating their 40th year, Creativity Explored is a studio-based collective that supports neurodiverse and developmentally disabled artists. DBA has partnered extensively with Creativity Explored, who help us realize our philosophies of "Art for All" and "Get Personal" in our work.
These two key strategies from our community-oriented design framework—9 Ways to Make Housing for People—enable us to bring color, culture, life, and resonance into our projects.
Enjoy drinks, snacks, and a pop-up art shop and learn more about Creativity Explored and DBA's 9 Ways.
Register through the AIA and visit a curated collection of three AIA San Francisco firms—all within a 20-minute walk. 
Saturday, June 10
[Bike Tour] Tour on Wheels: Livable Density
Saturday, June 10, 2023, 1-3pm
David Baker, FAIA, Principal, David Baker Architects

Caroline Souza, AIA, Principal, David Baker Architects
Hop on your bicycles, scooters, or BayWheels to tour some recent high-density, mixed-income, mixed-use developments. We'll visit six projects, comprising 1,700 homes, 400 of them affordable. You'll see Mason on Mariposa, Potrero 1010, and 855 Brannan—market-rate communities that integrate new homes and businesses, provide public open space, promote neighborhood connectivity, and bring sensitive density to the Potrero Hill and SOMA neighborhoods. You'll finish the relatively flat three-mile ride at Five88, workforce housing in Mission Bay, adjacent to SPARK Social SF, a perfect place to grab a quick lunch.
[Note: This event has passed.]