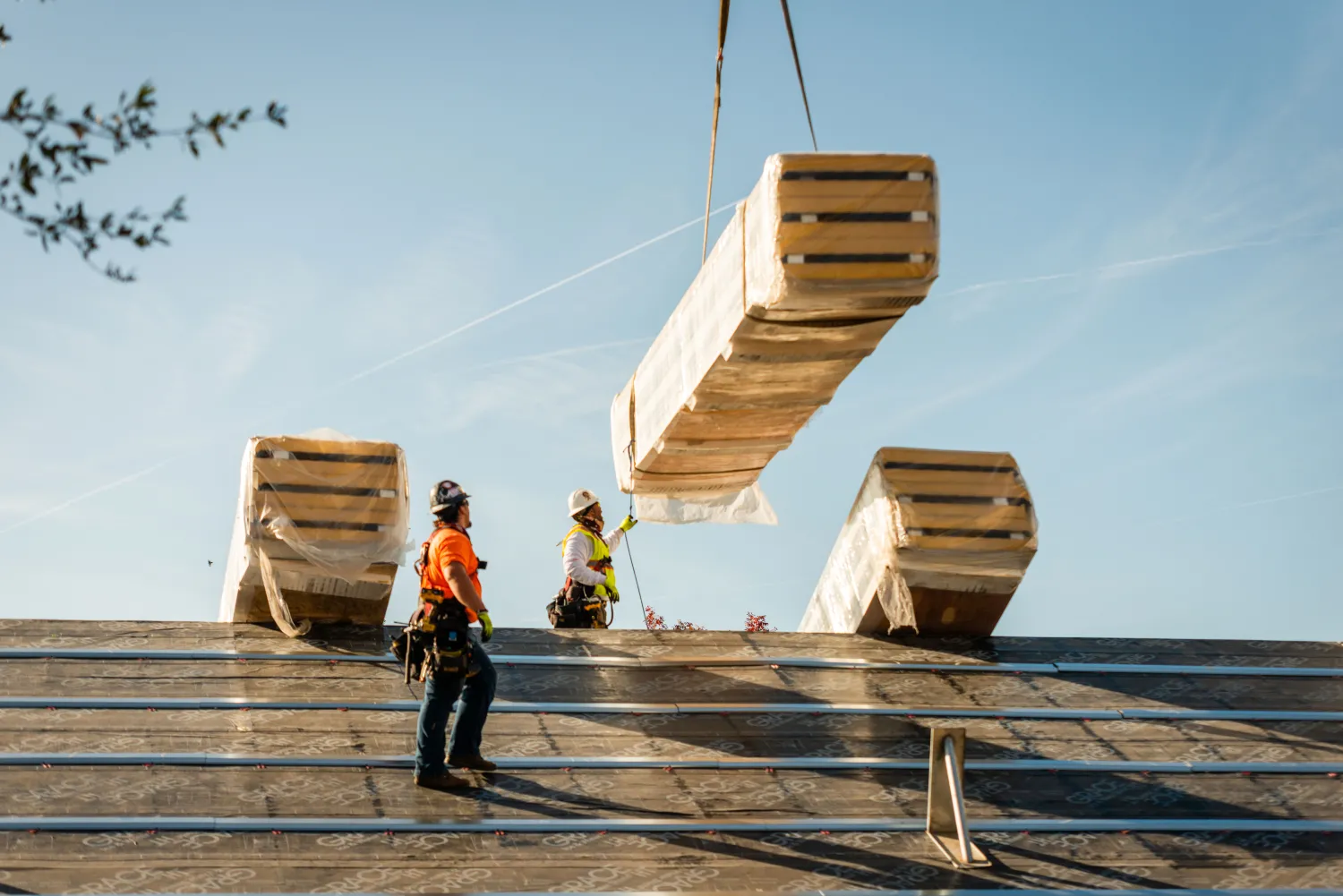 Led by RMI, the goal of REALIZE-CA is to establish a statewide net-zero carbon retrofit program using standardized retrofit packages to improve the affordable multifamily building stock in the state. 
DBA has spearheaded the delivery of three holistic retrofit demonstrations involving some combination of panelized wall or roof systems, window improvements, full electrification, and integrated heating, cooling ventilation systems. Together, the REALIZE-CA demonstrations are predicted to cut overall energy use by more than half, eliminate on-site fossil-fuel use, and reduce total electricity usage by at least 10%, even with new electric loads. The demonstrations also promise to substantially improve safety, resilience, and quality of life for residents.
REALIZE-CA projects in the works include:
Vera Cruz Village in Richgrove, California is a community of 49 households serving primarily low-income farmworkers in the San Joaquin Valley. The stacked and attached 1-2-story flats were built in 1996 and suffered from high energy bills and mold owing to leaky windows, inadequate ventilation and inefficient systems. The demonstration included an insulated metal panel roof system combined with emerging HVAC solutions in two of the 14 buildings. All buildings were fully electrified, and received high-efficiency upgrades to existing windows, attic air sealing and rooftop HVAC. The results allow us to compare the cost and performance improvements associated with conventional and emerging energy efficiency options for low-rise multifamily buildings with attics, sloped roofs, and unitized water heating.
Corona del Rey, in Corona, CA, is a community of 160 low-income households across 40 buildings of 4 attached townhomes per building. Built in 1964, the uninsulated buildings lack basic seismic reinforcement, have deteriorating stucco, and asbestos in both exterior stucco and interior drywall. Two demonstration buildings will receive a seismic upgrade and panelized insulated wall retrofit along with new insulated roof, windows, and packaged HVAC solutions that integrate with the envelope retrofit. The demonstration will evaluate potential value gained from the strategies that hold promise for reduced costs and/or installation time relative to a conventional retrofit or gut rehab approach.
Kings View Manor in Fresno, CA, is a two-story double-loaded corridor building built in 1990 with 106 units. The demonstration seeks to electrify central hot water, heating, and cooking end uses, including a full-building domestic hot water retrofit and a mock-up of emerging, non-invasive, window and unitized HVAC solutions in two units. The demonstration will evaluate the relative cost (material & labor) and speed of deploying these unconventional systems and determine their viability as an option within the REALIZE-CA retrofit package.