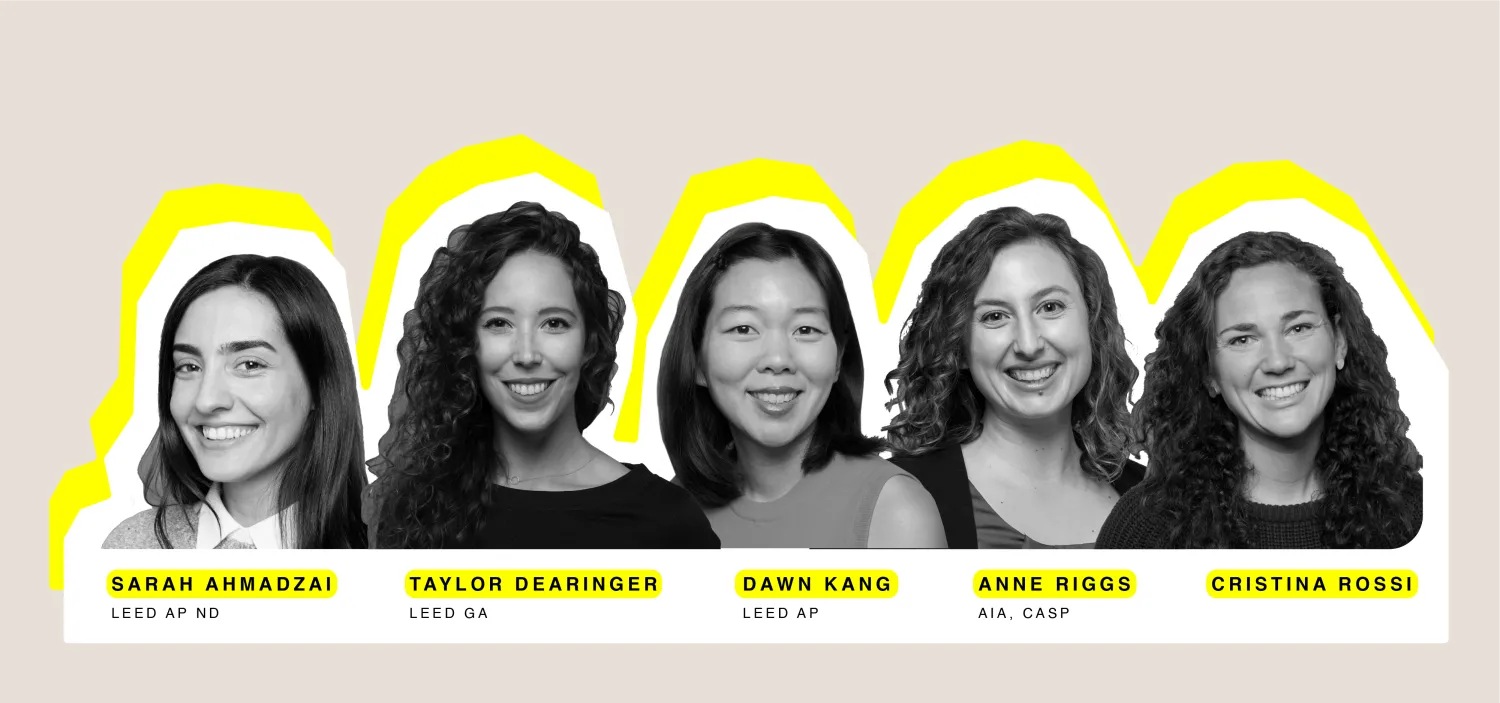 David Baker Architects has promoted and elevated five exceptional architects and designers to Associates of our firm: Sarah Ahmadzai, Taylor Dearinger, Dawn Kang, Anne Riggs, and Cristina Rossi.
Each of these women has harnessed her own talents and interests to elevate our projects and our practice—expanding the impact of our work, pushing cultural and technical change, and continually asking how we can improve.
Of these new leaders, Principal Katie Ackerly, AIA, LEED AP, CPHC, notes: "They are effective not only because of their commitment to the work but because of their ability to see how their actions can uplift the firm as a whole. Celebrating a new all-female class of associates highlights qualities of leadership, such as a collaborative approach and collective impact that—although not exclusive to women—are distinct from patriarchal models and help our firm grow stronger."
Read more about these remarkable leaders—including their history, areas of practice, and ideas and initiatives that will shape DBA as we move forward.
Sarah Ahmadzai, Assoc. AIA, LEED AP ND, Associate 
Sarah is an experienced architectural designer with a penchant for tackling complex projects. Her passion for great design is shaped by a sincere interest in creating livable cities and sustainable, equitable communities. Her work blends her background in urban design and her interest in research-driven solutions with her appreciation of meaningful, local community engagement. Sarah has worked on a broad range of projects—from writing parametric scripts for the gates at La Fénix at 1950 to managing the entitlement of over 660 affordable homes in a single project in Downtown San Jose. Sarah holds a Bachelor of Arts in Architecture and Community Design from the University of San Francisco, and she is actively involved in ULI San Francisco, helping to guide and inform public agencies on the realities of housing construction when making policy decisions.
Get to know Sarah:
I went to school for architecture, but my first class covered the history of urban design from early civilizations to Jane Jacobs. I was intrigued by cities—I liked thinking at that scale and having an impact on urban areas. My first internship was with a large corporate firm doing urban design. I worked there for three years and learned a lot, including that the corporate lifestyle wasn't for me. When I decided to move back into architecture, I was drawn to firms that designed housing because of seeing the housing crisis firsthand in San Francisco.
Now I am a project manager at DBA, and I also work as a project designer. I get a lot of exposure to different projects in early phases because of my experience with urban design. I am the zoning-code translator for the office: codes, design guidelines, pre-project test fits, state density bonus laws. I like to take the legalese and turn it into plain language for clients and everybody else at DBA. When we were still working together at the office, I also used to commandeer the speakers to be the self-proclaimed resident DJ!
I'm really inspired by Liz Ogbu, a designer, urbanist, and spatial justice activist. In one of her talks, she reminded us that for every project, we have two clients: one that is paying us, and the users—the public. Sometimes the public is disengaged and they don't know that they are the client—but you can get them involved if you invite them in. I wish architecture was no longer a "gentleman's profession." So many things would have to change! I'm often the only woman and the only person of color in a room. Architecture school is expensive: It leaves you buried in loans, and I have many talented friends who were not able or not willing to continue in the field.
You can contact Sarah here. 
"Sarah is really good at distilling complex information, and clearly communicating it to both the project team and the client. She constantly blows our minds with either a new spreadsheet that she's designed or the data she's visualized. That's really become a whole new skill set for us, and it means we can speak to and impact more people." 
—Principal Amanda Loper, AIA, LEED AP
Taylor Dearinger, Assoc. AIA, LEED GA, Associate
Taylor is a socially driven architectural designer and a founding member of DBA_Lab, the firm's in-house research and exploration studio. She holds degrees in both Architecture and Architectural Engineering from Oklahoma State University. Taylor is a leader of DBA's equity initiatives, and has helped facilitate the firm's JUST certification and B Corp application processes.
Get to know Taylor:
I started working for DBA in 2015 after an initial stint as a summer intern. I am currently a project manager, and I also work in many different roles. Our projects are large and have long timespans—for example, I worked on the A2 apartments in Baltimore and Harmon Guest House in Healdsburg, California, for several years. I enjoy opportunities to jump in and out of projects to support certain phases, gain more experience in various project types and scales, and build relationships with different people at our firm. I am also a huge proponent of "extra curricular" activities in the firm: Whether it's scheduling a happy hour or planning a group bike ride, I think spending time together outside of work is what makes our culture so strong.
I worked with a few colleagues to launch DBA_Lab, creating a space within the firm for different project types, including pro bono work and small-scale community-based projects that allow us to test new ideas and connect with people. It started with peepSHOW, our entry into the first annual Market Street Prototyping Festival in 2015. We wanted to get out of our comfort zone and experiment with different graphic tools and hands-on work like welding and CNC routing to create a sculptural public installation. DBA_Lab is open for all staff to submit a potential project or idea, and it has been exciting to see how these projects engage staff, spark inspiration, and give back to our local community.
My proudest achievement at DBA has been getting JUST Label certification from the International Living Future Institute in 2018. The JUST Label is a transparency platform for socially just and equitable organizations—it's a way to quantify our commitment to equity. We revamped our employee handbook and culture guide, including revised family leave policies and gender pay equity. JUST certification has been a big tool for us to hold ourselves accountable to the goals we set and to measure how we can continue to be a multiplier of good. Although we have made some real progress towards justice, equity, diversity, and inclusion, we see where there is still critical work to be done within our office, community and industry.
You can contact Taylor here. 
"Taylor continually challenges us to expand, to question how inclusive and equitable we are. She has the courage to ask hard questions when they need to be asked, but at the same time, she is really dedicated to the firm and the work."
—Principal Amanda Loper, AIA, LEED AP
Dawn Kang, Assoc. AIA, LEED AP, Associate 
Dawn considers architecture "art that needs to work" and enjoys the challenge of bringing together the necessary confluence of design considerations and disciplines. She holds a Bachelor of Arts in Architecture from the University of California, Berkeley, and a Master of Architecture from Cornell University. Dawn has always been interested in the relation between interior and exterior spaces and in the regional influences that root architecture in a specific place—especially on her current projects Hotel Sebastopol, a community-based boutique hotel in Sebastopol; and Page Street Studios, affordable homes in San Jose. Dawn heads up DBA's internal design charrettes, creating organized opportunities for projects to benefit from the focused attention of our extended creative staff.
Get to know Dawn:
I grew up in Hawaii, so I wanted to go east and see more of the country. Cornell had a reputation for design excellence and offered a lot of diversity in theoretical stances in architecture—you could latch onto what interested you, so I got really invested in technical sustainability tools and how to easily integrate sustainable choices into people's lives. I've worked at different types of firms, from super-small boutique firms to large corporate ones, and I was attracted to DBA for its commitment to social justice and housing for all.
I've worked with DBA for five years, and I focus on construction documents. I like realizing the big design idea, keeping it in my mind as we develop the project. I'm very interested in the technical aspects of architecture, in the detailing, so I joined the firm's Revit Committee and am helping build a detail library as a resource. I'm doing construction administration for the first time on Page Street Studios in San Jose with Charities Housing, and I'm finding it very exciting to see how everything plays out in the field. Page Street is scheduled for completion in July 2022 and will be my proudest DBA achievement when it's finished.
I think the profession as a whole should do a better job of acknowledging that work-life balance makes architects more productive in the long run. DBA is good at this. I appreciate how collaborative the firm is, and how willing people are to share information. We are busy, but everybody is approachable and eager to share what they know and how that can help you in your project. I also love that the firm shares my enthusiasm for cycling—everybody rides a bike.
You can contact Dawn here.
"When Dawn is on your project, there are going to be eyes on every area. She is a lovely blend of technical prowess and artistic touch—and her competence and commitment to excellence really brings depth to her projects."
—Principal Caroline Souza, AIA
Anne Riggs, AIA, CASp, Associate 
Anne is committed to producing design that embodies an ethic of care—creating uplifting, equitable, and sustainable environments for all. She holds a Bachelor of Architecture from Carnegie Mellon University and is a Certified Access Specialist (CASp), specializing in access compliance for public and publicly funded projects (Title II) and public accommodations (Title III). Anne has more than 10 years' experience designing and constructing affordable public housing, single- and multi-family housing, hospitality, K-12 public school, healthcare, retail, and community development projects. Her projects with DBA include Foundry Commons in San Jose, Harmon Guest House in Healdsburg; and 222 Taylor and La Fénix at 1950 Mission in San Francisco. Currently, Anne is the project architect on West Gateway Place, an affordable housing project in West Sacramento.
Get to know Anne:
I grew up in Berkeley and then went to Carnegie Mellon University in Pittsburgh and ended up staying for seven years. When I returned to California to be nearer to my family, I designed schools with Baker Vilar Architects in Emeryville and housing with DBA. Then I moved to Los Angeles, where I worked with Michael Maltzan Architecture and BAR Architects. In August 2019, DBA called to ask me back. So I returned to DBA remotely, which was challenging, but when the pandemic hit, everybody was in my world.
A few years ago, I attended a lecture by Viennese curator and theorist Elke Krasny about a feminist approach to architectural theory that really inspired me. She said that we have undervalued the role of the architect in maintaining the world around us so that we can live fulfilling lives. Building the environment should be about humanity caring for itself. I think that architects should be valued for our ability to protect the climate and our community and our future, not only for our ability to propose museums that look cool.
I also think that we need ways to add a wider variety of housing at smaller scales. DBA tends to work on relatively large projects of 60 units or more. We work with tenacious affordable housing developers, but the financial constraints limit the types of projects they can build. With DBA_Lab, we've been looking at fourplexes recently, which is a critical scale for addressing housing scarcity.
You can contact Anne here.
"Anne has an unapologetic energy about what she cares about, which can be very powerful. She gets excited about the details, loves problem-solving, and instills confidence that something she is tackling will get resolved well."
—Principal Katie Ackerly, AIA, LEED AP, CPHC
Cristina Rossi, Assoc. AIA, Associate
Cristina has studied architecture and urban design in several international cities, which has fueled her interest in combining design strategy and community development to make quality public space accessible to all. She holds a Bachelor of Arts in Architecture from the University of California, Berkeley, and a Master of Architecture from Syracuse University in New York. Since joining DBA in 2016, Cristina has worked on many complex projects—including Hunter's View Phase III and 921 O'Farrell in San Francisco—in their conceptual design phases and community engagement efforts. She has experience in both mid-rise and high-rise designs for affordable and market-rate housing, and is active with DBA_Lab, our in-house exploration and research studio.
Get to know Cristina:
I grew up in Los Angeles but have family in Italy, so I was interested in studying there through Syracuse University's program in Florence. The contrasts between L.A. sprawl and European density have fascinated me since I was young and provoked a lot of my thinking around urban development.
I first heard about DBA when I was in undergrad, which sparked my interest in housing more specifically. After returning to California from graduate school, the first project I worked on was a high-rise residential tower in San Francisco for Skidmore, Owings & Merrill. The project introduced me to issues surrounding density and housing in the Bay Area, and I wanted to find a firm that aligned with my values around social equity and community. This all brought me to DBA in 2016. Since then I have done a lot of work on the early concept designs and entitlements of our projects. I love using design as a tool for problem-solving and rethinking the way we experience our surroundings. Most recently I am excited to be working on Hunters View Phase III and a large-scale mixed-income housing community in East Palo Alto.
There are a couple of activities that keep me inspired and productive, particularly during the pandemic. I draw a lot in the morning before work to get my thoughts going. I primarily do geometric abstractions and graphic art to study shape, form, and color. I'm also a runner— I often run in the streets around the Grand Lake Theater in Oakland and the trails in Redwood Regional Park. I find that getting out in nature is a good reminder of our responsibility to the environment.
You can contact Cristina here.
"Cristina has really gone through the trial by fire at our office. We've tried to take things off her plate, but she's continued to demonstrate that she is able to handle multiple projects with intense deadlines and demands with grace and always gets them done."
—Principal Amanda Loper, AIA, LEED AP