By
Katie Ackerly, AIA, LEED AP, CPHC
2023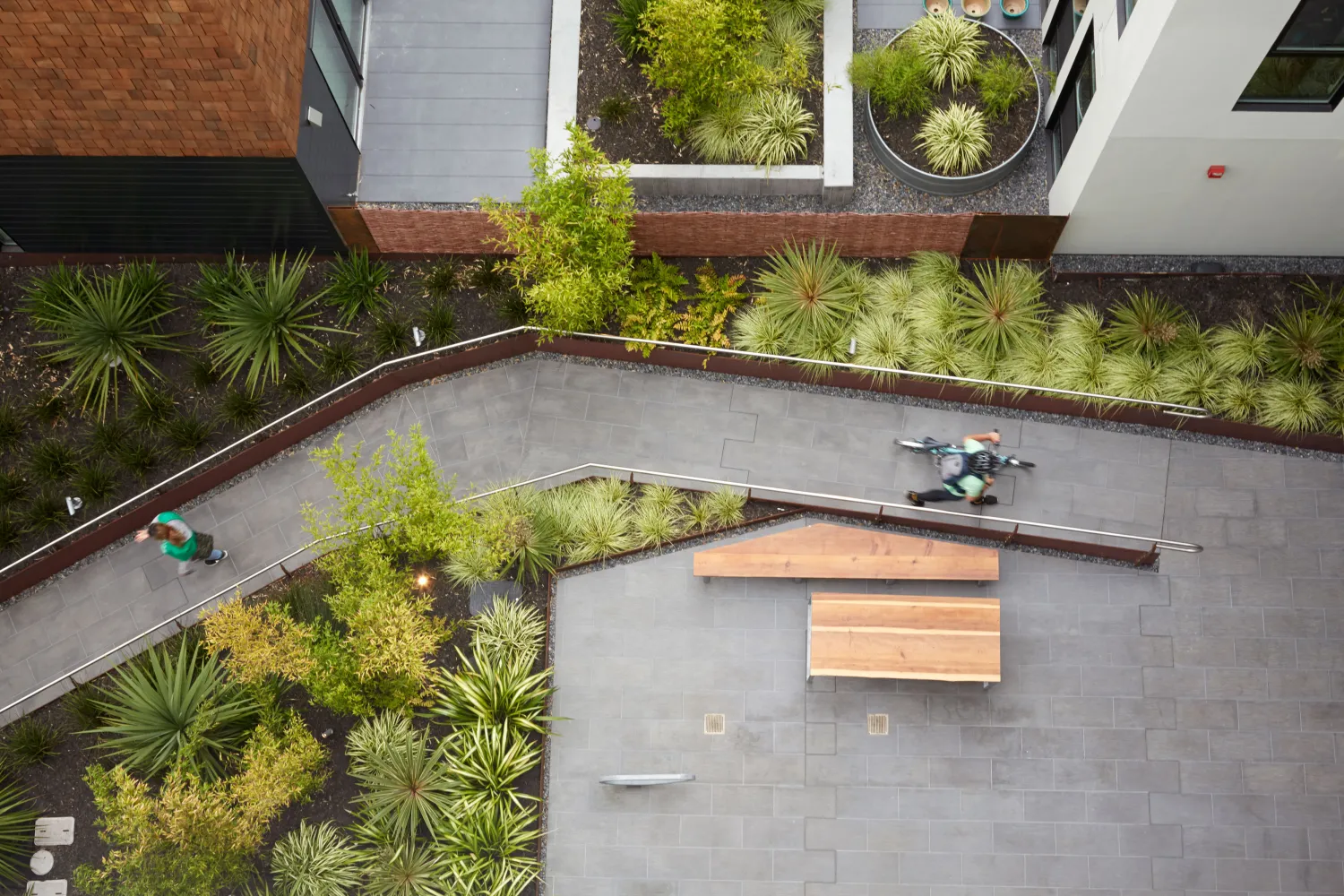 Image Credit
Bruce Damonte
Our Approach to Sustainable Design
DBA takes a proactive, visionary, and data-informed approach to sustainable community and housing design. Because where and how we build communities is foundational to how we inhabit the planet, the context of community development, infrastructure, and social equity equally drive the impact of a project.
The power of housing providers to address climate change starts locally, in securing and expanding direct benefit—stability, health, adaptation—to the communities where they operate.
The present urgency of our time compels us not to rely on a "pilot" theory of change for the scale of transformation we need. The paradigm of green building over the last 20 years has been market-based, driven by competition and brand: Make the building better in order to align your company brand with "doing good."
As the market appeal of green-building certifications has dimmed, we also recognize that this paradigm has had the adverse effect of siloing sustainable design as a special interest, posing an apparent, if unintended, conflict with other interests (like housing development, and community-interest design). We have also learned that green-building frameworks are insufficient when applied to housing, when checklists and the market value of "green" lead the conversation, rather than the essential environmental and social value of the housing itself.
Our Action Plan
Our Sustainability Action Plan establishes a vision for where we think our projects need to be by 2030 to be contributing fully to global ecological solutions, in lieu of a singular "zero-carbon" portfolio goal.
We have identified barriers—ranging from legacies of structural environmental and social injustice to the severance of urban sites from natural systems to lack of regulation of hazards in building products—that keep housing equity and sustainability separate issues.
The DBA Sustainability Action Plan is a roadmap for exploring and tackling these barriers in our work. It is organized into the following five areas of focus, meant to catalyze capacity growth and dismantle barriers in areas of performance that are critical for our core practice of housing, community-based commercial spaces, and neighborhood design. It includes a range of actionable steps that we are taking toward each of the following goals.   
Human Experience
Goal: We actively listen to community needs and have the tools to prioritize strategies that foster stability, comfort, agency, and belonging for all people who inhabit our projects, including in the face of disruptive change.
Healthy Materials
Goal: Our projects do not contain chemicals that cause chronic acute harm to occupants, and they include alternatives to plastics that imperil communities somewhere else.
Ecology & Water
Goal: Our projects build connections and intimacy with natural cycles by mending, enhancing, and celebrating significant components of the site-specific ecology within which it is built. This includes habitat, carbon sequestration, and the health of water systems and resources through direction, reduction, and reuse.
Energy Resources
Goal: Our projects are set up for successful operations and reduced operating costs. We optimize the integration of on-site distributed energy resources to minimize operational carbon and achieve long-term energy resilience.
Advanced Materials & Methods
Goal: Our work helps to dismantle carbon-and waste-intensive construction materials and practices and promotes industrialized construction methods that accelerate the construction and retrofit of low-carbon housing.