By
Kate Mazade, Communications Coordinator
October 2021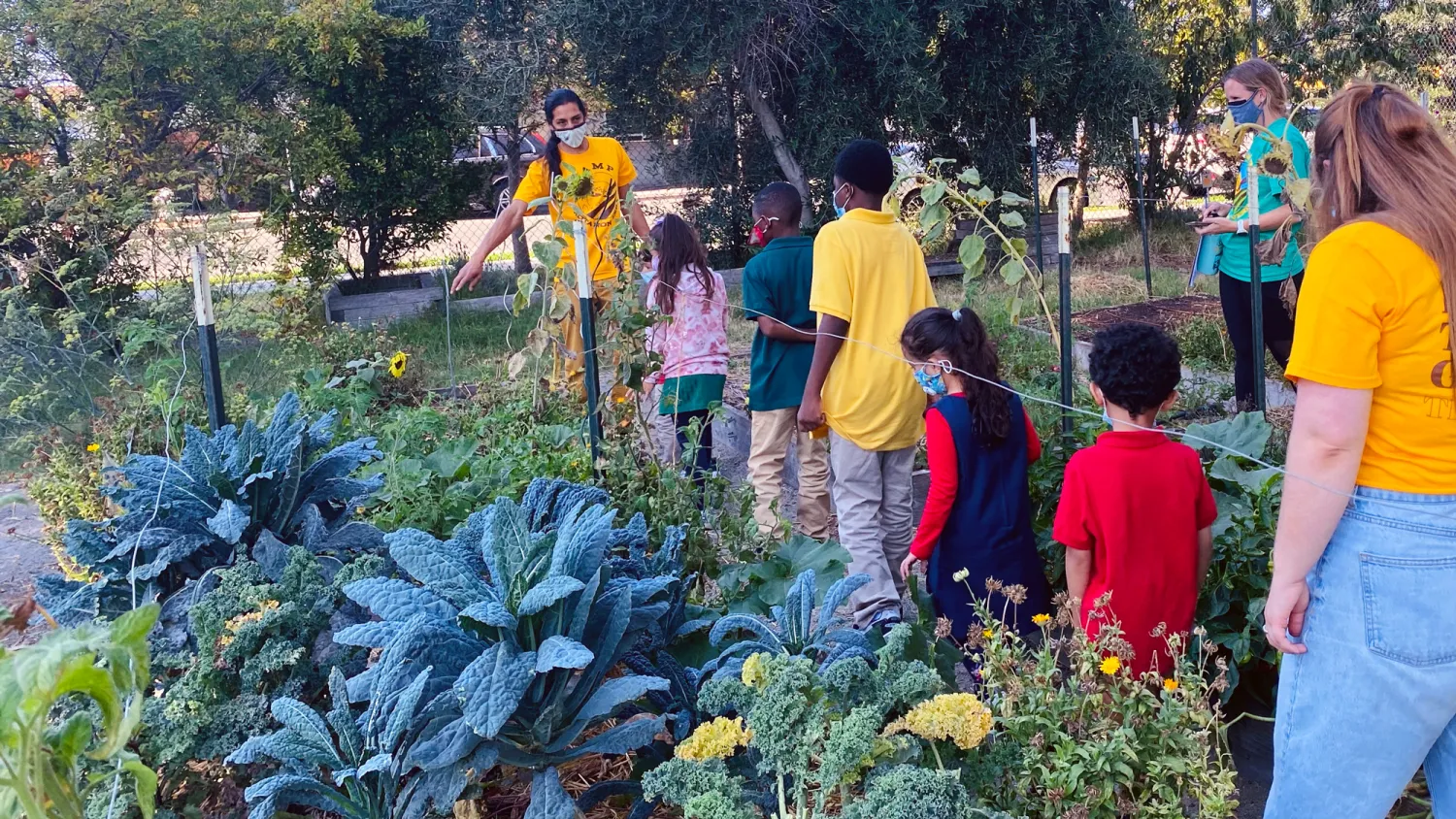 Image Credit
Acta Non Verba
Small-scale urban farming makes a big impact in affordable housing communities. 
"My favorite part of camp was when we would make new foods from the vegetables from the farm. We would try these new things to help us to be open minded, but they tasted so good—I will never forget the fried squash or zucchini bread."
Eighteen-year-old Tajae Harris is a longtime fan of the Acta Non Verba: Youth Urban Farm Project (ANV) and has been involved since the farm first opened in her neighborhood, Tassafaronga Village in Oakland, when she was eight years old. Ten years later, Tajae has spent countless hours on the farm with her siblings, attending summer camp for five years, and returning as a counselor this summer.
Housing + Park = Farm
Founded in 2011 by Oakland native Kelly Carlisle, a U.S. Navy veteran and master gardener, the Acta Non Verba: Youth Urban Farm Project works to create safe outdoor space for kids and families. The non-profit organization's name is Latin for "Deeds not Words," signaling the dedicated action required to change one's situation. What started as a small .25-acre garden in the under-used public park next to the then-brand-new Tassafaronga Village housing has now grown into a fully functioning community farm with youth programs and neighborhood food services for nearly 500 people.
Acta Non Verba was established in East Oakland, California, alongside Tassafaronga Village, a seven-acre affordable housing community designed and planned by David Baker Architects. Completed in 2010, the new housing community reconnected broken urban links—restoring access to the local library, school, and community center—and helped set the stage for revitalizing the neighborhood. A big part of that revitalization came from the relationship with the fledgling urban farm.
The refreshed Tassafaronga Village was a partnership between the Oakland Housing Authority (OHA) and Equity Community Builders, who developed 157 new affordable homes ranging from studios to 3-bedroom units to replace extremely outmoded WW2-era public housing. The plan also incorporates 22 Habitat for Humanity East Bay townhomes for first-time homeowners who contributed to their construction. Tassafaronga Village holds two top-tier sustainability certifications: LEED for Homes Platinum (2011) for the OHA housing and LEED New Development Gold (2008) for the neighborhood, one of the first projects to be recognized with this certification.
Designed to promote healthy lifestyles, economic and educational opportunities, and community empowerment, ANV is interdependent and mutually beneficial to its home at Tassafaronga Village.
"ANV gives [Tassafaronga residents] a place to get together and form community," said Sydney Collins, manager of Camp ANV and the after-school programs. "But also the sense of community within Tassafaronga makes the farm successful."
Opportunity for Education and Education for Opportunity
ANV's primary mission is to increase education about nutrition, food production, and healthy living through youth programs like kids' camp and after school sessions—all of which are free to Tassafaronga residents. Kids aged 5 to 11 can dig in to participate in food-related activities including planting, havesting, and cooking classes. These help children build a foundation of healthy living and decrease food scarcity in the area—a neighborhood in which over 90% of local students qualify for free or reduced school lunches.
The Tassafaronga farm—now one of three ANV farms throughout the East Bay—provides access to green space that may not otherwise be available in a dense city. Sydney credited the security and peace of the urban farm with benefits far beyond food production.
"For a kid to have a safe place to play outside and learn about farming, it really can expand their horizons to other opportunities," Sydney said.
Those opportunities center around access to education. Kid gardeners help harvest, market, and sell the farm's produce at ANV's Farmstand, and all profits go into the participating youths' Individual Development Accounts (IDA). Kids can access IDA funds for anything related to education or enrichment—from college application fees to piano lessons. ANV also provides leadership opportunities for junior high students through the Leaders In Training Program (LIT) and for high school students as employed camp counselors, such as Tajae.
Community Contributor
Acta Non Verba's programming isn't only internal, but expands to support and reflect the surrounding community. In addition to installing gardens at our local Alameda County schools, ANV celebrates local customs and heritage, offering cultural drumming classes and growing food needed for cultural recipes.
"We focus on talking to residents about what they want to see grown and what is relevant to them as long as it's fit for the climate," Sydney said."We're really receptive to that and try to grow what the Tassa Community wants to see."
The ANV farm also increases access to food for the whole neighborhood with a monthly Free Food Pantry for Tassafaronga Village residents and a Community Supported Agriculture (CSA) program where locals can purchase shares—discounted boxes of fresh produce—from the farm.
The numerous programs and the community spirit of the ANV farm are embedded in Tassafaronga Village and the larger surrounding neighborhood. In the decade since they opened, the partnership between the housing, farm, and community has shown itself to provide opportunities far beyond a mouthful of fried squash or a slice of zucchini bread.
"I always encourage people to do anything that involves ANV," Tajae said. "Being around everybody [on the farm] makes you feel good, welcome, and open to do anything."
Learn more and support ANV at anvfarm.org/donate.